El Project Management Institute (PMI) anunció la semana pasada la puesta en marcha de cambios importantes en su programa CCR (Continuing Certification Requirements). Estos cambios se harán efectivos a partir del 1 de diciembre de 2015 y afectan tanto a aquellas personas que posean actualmente alguna certificación de PMI (las certificaciones que actualmente ofrece PMI son: Project Management Professional (PMP)®, PgMP®, PfMP, PMI-PBA, PMI-ACP, PMI-RMP, PMI-SP) como a quien tenga pensado obtenerla en el futuro.
Ya sabéis, la obtención de PDUs (Professional Development Units) es un tema que siempre ha generado dudas entre los poseedores de certificaciones (cómo obtenerlas, qué actividades permiten acreditarlas, qué límites se establecen). Precisamente eso es lo que pretende resolver PMI con estos cambios.
En la página web del PMI explica en detalle el porqué de estos cambios y ofrece algunos webinar con información detallada. En este post resumimos algunas de las novedades a tener en cuenta a partir de diciembre.
Qué cambia y qué no cambia en el Programa CCR
Los cambios principales son:
Incorporación del "Triángulo del Talento", o los tres ejes sobre los que se medirá el desarrollo profesional
Requisitos y límites de PDUs en algunas categorías
Las PDUs seguirán reportándose en dos grandes categorías: "Education" y "Giving back to the profession" y no cambia tampoco la manera de obtener PDUs: a través de formación formal, continua, autoaprendizaje, experiencia en dirección de proyectos, escribir artículos, etc.


Triángulo del Talento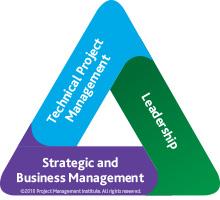 El desarrollo profesional gira en torno a tres ejes principales, que PMI llama Triángulo del Talento:
Technical Project management – conocimiento, habilidades y comportamientos relacionados con áreas específicas de gestión de proyectos, programas o portfolios.
Por ejemplo, un curso de Gestión o captura de requisitos, gestión de programas, o un curso acerca de métodos ágiles.
Leadership – conocimiento, habilidades y comportamientos específicos para motivar o guiar a otros.
Por ejemplo, negociación, team building o inteligencia emocional
Strategic and business management – conocimiento y experiencia en la industria/organización que permite mejorar el rendimiento y entregar mejores resultados para el negocio.
Por ejemplo, finanzas, gestión de contratos, planificación estratégica.

Límites de PDUS por categorías
El resumen es el siguiente: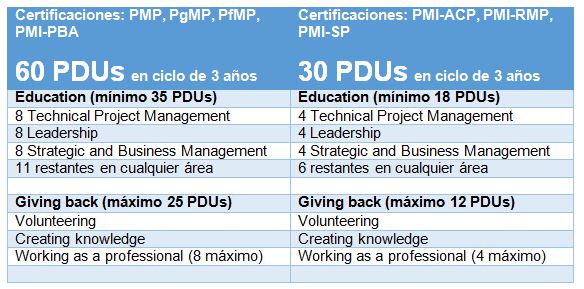 Finalmente, PMI también ha anunciado cambios en los exámenes correspondientes a PMP® y PMI-ACP que entrarán en vigor a partir de noviembre de 2015. Más información del Programa CCR aquí