Change your organization's mindset and culture from the inside out.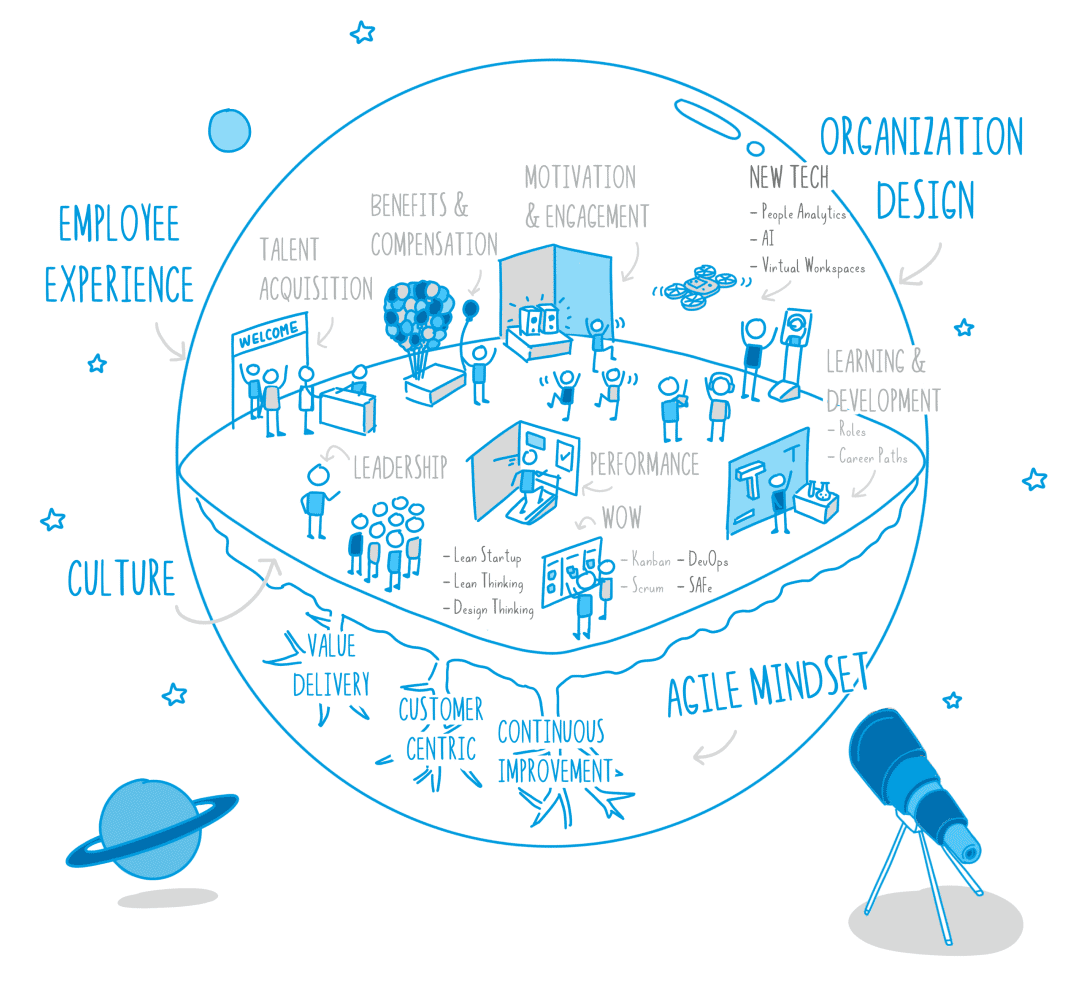 Agile for HR es una formación centrada en cómo recursos humanos puede ser el motor del cambio en una organización. Define nuevos modelos de gestión y desarrollo del talento para los recursos humanos. Va más allá de analizar cómo las transformaciones ágiles afectan la función de recursos humanos y enfatiza cómo este equipo puede impulsar la adopción de la transformación.
Beneficios de aplicar Agile en Recursos Humanos
Esta formación ayuda a RR.HH. a comprender qué es Agile, aplicar métodos ágiles en sus propios proyectos y, lo que es más importante, ajustar sus procesos centrales para reflejar la realidad de un entorno de trabajo ágil. Las personas comprenden cuál es su nuevo rol dentro del espacio de trabajo ágil y también cómo:
Ajustar las métricas de rendimiento individual y las estructuras de compensación para el éxito en equipo
Medir el compromiso y la motivación dentro de un equipo.
Actualizar el perfil necesario de los empleados potenciales y existentes poniendo énfasis en las habilidades que permiten equipos multifuncionales.
Reclutar e incorporar nuevos empleados de una manera que promueva la agilidad.
Determinar qué roles laborales son necesarios en el nuevo entorno laboral
Desarrollar o contratar líderes que operen bajo un nuevo modelo de gestión (Management 3.0 es una gran solución).
Mejorar el aprendizaje y el desarrollo para promover un entorno de aprendizaje continuo.
Además, un departamento de recursos humanos que adopta estas prácticas está mejor equipado para satisfacer las necesidades de sus clientes (y empleados) aumentando la empatía, volviéndose más centrado en el cliente y siendo más fácil trabajar con él a través de una colaboración y transparencia constantes.
Recursos humanos es uno de los pocos departamentos que abarca a todos los demás departamentos. Si bien puede que no sea obvio al principio, su capacidad para influir en la adopción de una transformación es mayor que la de cualquier otra área de una organización. RR.HH. debe desempeñar un papel fundamental en la adopción de una cultura ágil, ya que tienen una posición y capacidad únicas para diseñar una nueva estructura organizativa que permita la agilidad empresarial, maximice la comunicación y la colaboración dentro y entre los equipos y permita el flujo de valor.
Las personas ágiles son fundamentales para desarrollar y ejecutar un plan de acción organizacional para modelar una mentalidad ágil. Al adoptar una nueva cultura de trabajo, los equipos de RR.HH. impulsan la transformación organizacional. El poder de la agilidad está a través de las personas.
Descubre cómo estamos ayudando al departamento de recursos humanos de un hospital infantil a adoptar la agilidad dentro de su área.
¿Cómo es
Recursos Humanos
en Agile?
El diseño organizativo de aquellos que adoptan Agile en RRHH puede tomar forma aplicando modelos organizativos tradicionales (como Matrix, Helix, Divisional), nuevos modelos organizativos centrados en las personas (como Sociocracy 3.0, Teal, Ambidextrous, Holacracy, AEquacy), modelos basados en el mercado (como Rendanheyi de Haier, EEEO), o modelar después de modelos (como los de Jacob Morgan, Corporate Rebels, John Ingram, o Emanuele Quintarelli).
Independientemente del enfoque de diseño organizativo, RRHH debería centrar sus esfuerzos en las siguientes áreas: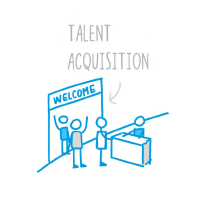 Perfiles T
Descripciones de los outcomes de los roles
Scrum & Kanban para reclutamiento
Hacer del Onboarding una increíble experiencia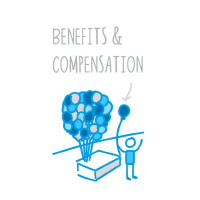 Beneficios y compensaciones
Sueldos autogestionados
Algoritmos
Comités salariales
Revisiones de los compañeros
Salario por méritos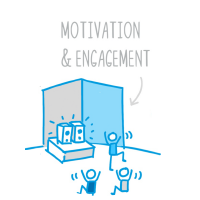 Motivación y fidelización
Economía conductual
Modelo RAMP
Herramienta RMP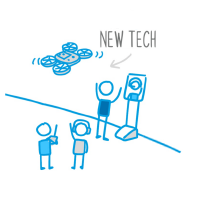 Análisis de personas
IA
Espacios de trabajo virtuales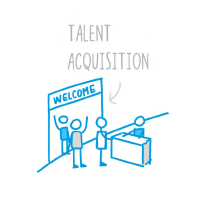 Seguridad psicológica
Las disfunciones de un equipo
Competencias y herramientas
Transmitir la visión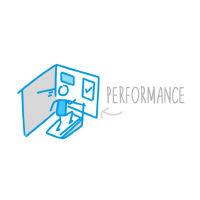 OKRs
Feedback a la carta y Feed-Forward
Análisis de personas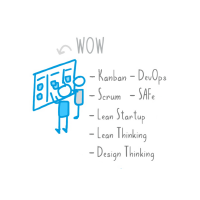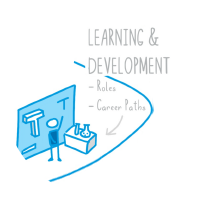 Modelo 70/20/20
Vías de aprendizaje Agile
Gobernanza
IA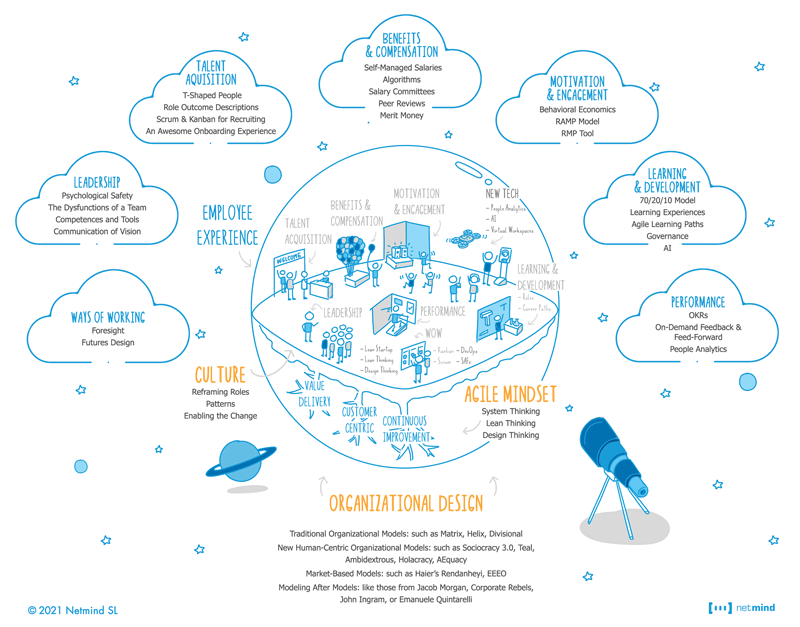 Consigue nuestra infografía completa de Agile en RR.HH. y úsala como referencia.
Certifícate en Agile for HR
Netmind es Traning Partner oficial para la certificación Agility in HR de ICAgile..Esta certificación se otorga a aquellos que asisten a nuestro curso Agile for HR y demuestran comprensión y aplicación de los materiales del curso.
Anabel Díaz
Business Development Manager
Santi Alcaide
Associate Trainer en Project Management
María Anes
Business Developer Manager
Ana Aranda
Lead Expert en Project Management
Luka Bureo
Learning Transformation Mentor
Kathy Claycomb
Senior Instructor
Ali Cox
Lead Expert en Business Analysis + Agile
Pablo Delgado
Agile Expert
Victor Fairén
Associate Trainer en Lean Agile Practices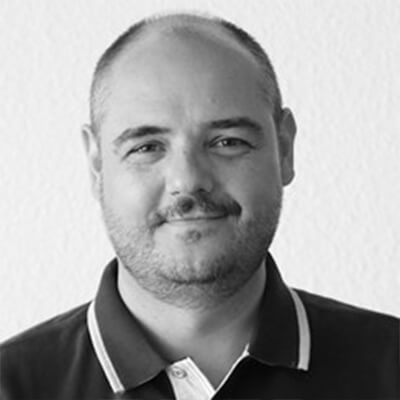 Miquel Rodríguez
Consulting + Agility Director
Netmind Insights en Agile for HR