En febrero de 2001 tuvo lugar la famosa reunión convocada por Kent Beck, donde 17 expertos de la industria del
desarrollo de software
estuvieron debatiendo sobre métodos de desarrollo más ligeros que las pesadas metodologías tradicionales utilizadas en esa época. De esta reunión surgió el
Agile Manifesto
. Pero el auténtico trabajo para concluir en este manifiesto no fue ese fin de semana, sino años antes, mientras cada uno de los 17 asistentes estaba utilizando métodos diferentes a los habituales en sus actividades de desarrollar software. El trabajo previo fue por ejemplo, Ken Schwaber y Jeff Sutherland con la publicación de
Scrum
en 1995, Alistair Cockburn con su explicación de
Crystal Methodologies
, Kent Beck con
eXtremme Programming
en 1999 …. Pero el considerado primer
«
marco de trabajo ágil
»
fue
DSDM Atern
, publicado en 1994 por el DSDM Consortium, un consorcio con sede en Londres, formado por grandes empresas como British Airways, Oracle, o American Express. La presencia de DSDM en el Manifesto estuvo representada por
Arie Van Bennekum
, uno de sus principales autores. En 2014 se cambió el nombre DSDM Atern por
DSDM Agile Project Framework
, para reflejar mejor su enfoque. Y en 2016 fue el DSDM Consortium quien también cambió su nombre por
Agile Business Consortium
, por el mismo motivo (bueno, y un poco de Marketing también).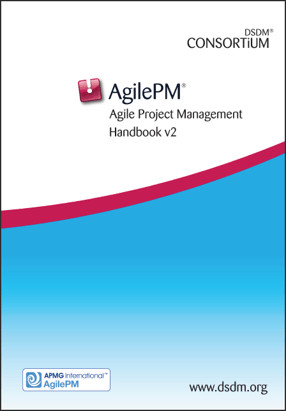 El marco de trabajo DSDM Agile Project Framework está pensado para su aplicación en un gran rango de proyectos. Desde pequeños desarrollos de software hasta grandes proyectos. Nacido en un entorno empresarial, permite aplicar un
enfoque ágil
en corporaciones acostumbradas a trabajar con proyectos más tradicionales. El marco está compuesto principalmente por:
Principles (comportamiento)
People (roles y responsabilidades)
Process (el ciclo de vida);
Products (qué producimos y cuando)
Practices (timeboxing, modelling, iterative development, prioritization and facilitated workshops).
Cubriendo de este modo los diferentes elementos de un proyecto ágil en un solo framework. La
filosofía
del DSDM Agile Project Framework dice textualmente:
«
best business value emerges when projects are aligned to clear business goals, deliver frequently and involve the collaboration of motivated and empowered people.

»
 Algo que claramente está alineado con los valores y principios del Agile Manifesto. Tanto es así que DSDM Agile Project Framework también cuenta con 8
principios
a seguir durante todo el proyecto. De hecho, no es casualidad que el Manifiesto tenga también unos principios, algo que sin duda heredó de DSDM. El marco de trabajo recomienda un conjunto de
roles
, diferenciando responsabilidades a nivel de proyecto, de equipo de desarrollo o de soporte. Al contrario que muchos otros frameworks, DSDM integra la gestión del proyecto con el desarrollo de producto en
un único proceso
. Este proceso nos ayudará a decidir el ciclo de vida recomendado a partir de diferentes
fases
, así como la interrelación entre ellas: Viabilidad (
Feasability
), Fundamentos (
Foundations
), Desarrollo evolutivo (
Evolutionary Development
), Despliegue (Deployment) y Post-proyecto (Post-Project). Durante el ciclo de vida del proyecto crearemos una serie de
productos
, clasificados en productos de Negocio, productos Técnicos, o productos de Gestión. Más de 15.000 profesionales se certificaron en
AgilePM Foundation
o
AgilePM Practitioner
en 2016, siendo uno de los marcos con mayor crecimiento en número de personas y organizaciones que lo aplican para mejorar la gestión ágil de sus proyectos. En siguientes artículos explicaremos con más detalle los diferentes componentes del marco, así como algunos ejemplos de aplicación en algunos clientes con los que hemos trabajado. Mientras tanto, aquí tenéis el enlace oficial para que podáis consultar de manera gratuita el DSDM Agile Project Framework Handbook publicado por el
Agile Business Consortium
. Por último, no dudéis en informaros de nuestras convocatorias de cursos y certificaciones en 
AgilePM
 y 
AgileBA.