El Club Asturiano de Calidad y Netmind vuelven a unir fuerzas tras una exitosa primera edición y ofrecen, de manera renovada y mejorada, el curso Agile for HR. El curso tendrá lugar los días 10,11,17 y 18 de diciembre, virtualmente y en directo. La ponente será María Anes Jiménez, formadora y experta de Netmind.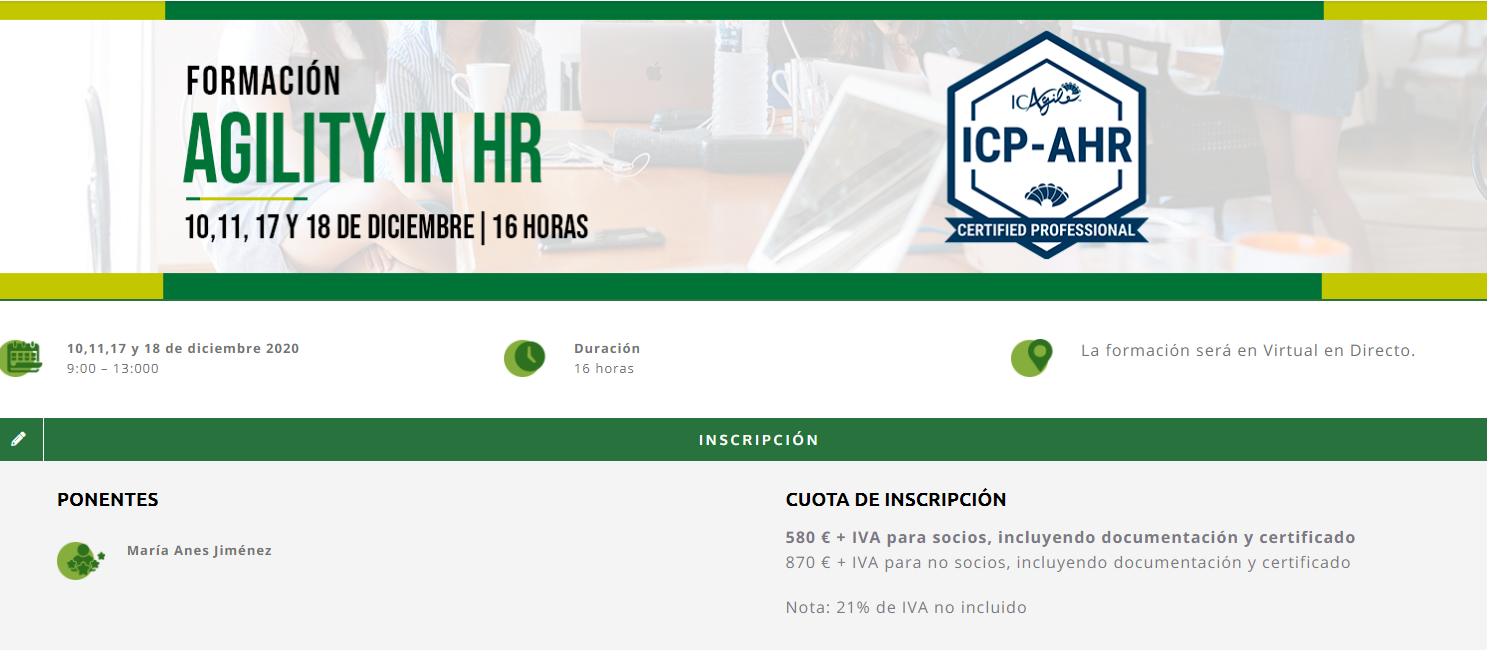 ¿Qué es Agile for HR?
Recientemente, ICAgile certificó nuestro curso Agile for HR, la nueva formación remota diseñada por Netmind. Agile for HR no sólo pretende transformar la función de recursos humanos sino también adaptar y adoptar verdaderamente el mindset y la cultura ágil dentro de las organizaciones. Los asistentes a este curso podrán descubrir por qué y cómo trabajar con agilidad, qué caracteriza a la mentalidad ágil y cómo cambiar los procesos de recursos humanos tradicionales cuando estamos trabajando con valores ágiles. Además, a lo largo de las 16h de formación, aprenderán cómo debe el departamento de recursos humanos adaptar el trabajo para crear el máximo valor en una organización ágil; cómo debe ser el reclutamiento, las evaluaciones de desempeño y las discusiones salariales.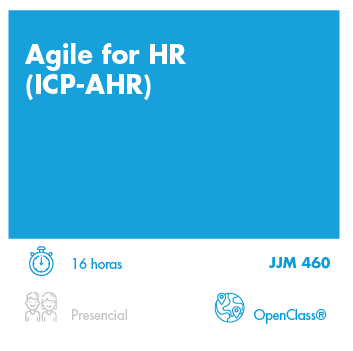 ¿Por qué certificarse en Agile for HR?
Este curso es altamente recomendable para aquellas organizaciones que apuesten por impulsar la innovación a nivel organizativo y quieran transformar sus modelos de trabajo, adaptarse mejor al cambio, aumentar el valor aportado a sus clientes, y fomentar la felicidad de sus profesionales.
También es muy recomendable para todos los profesionales de recursos humanos que deseen comprender el impacto de las transformaciones Agile en sus departamentos, así como para los managers que quieran entender cómo las Organizaciones Agile deben reformular sus estilos de liderazgo y sus modelos de gestión y desarrollo de las personas.
No dudes en contactar con nosotros para saber más sobre cómo podemos ayudarte a impulsar el cambio a través de las personas dentro de tu organización.
Experience the power of agility through people!