Una frase que resumen muy bien la metodología del curso de Management 3.0 o de nuestra área de formaciones en Management 3.o es «Gestionar el sistema, no las personas».
Me gustaría explicaros un caso práctico que ejemplifica esta forma de pensar.
En uno de los Másters donde imparto la asignatura de Agile teníamos un problema de puntualidad con los alumnos. Las clases teóricamente empezaban a las 9:00, pero eso nunca ocurría. A esa hora, como mucho, había uno o dos alumnos en el aula. El resto llegaban a cuentagotas y normalmente la clase empezaba entre 20 y 30 minutos tarde.
¿Cómo solucionamos un problema de puntualidad con Management 3.0?
Una de los posibilidades era que el formador/a empezara puntual, hubiera los alumnos que hubiera. Pero sí solo hay un alumno puede ser complicado e incómodo. Por otra parte, si se quería iniciar la clase con un ejercicio, un debate, conversación…al estilo de flipped classroom, pues más todavía.
Desde la universidad siempre se insistió a los alumnos en la importancia de la puntualidad. Incluso se planteó la posibilidad de que, una vez empezada la clase, no se pudiera entrar hasta el descanso, para evitar interrupciones constantes. Sin embargo, nada funcionó…
¿Qué enfoque utilizamos?

Después de explicar la técnica de las retrospectivas en la asignatura de Agile, decidimos plantear un enfoque diferente. Elegimos realizar una retrospectiva monotemática para tratar el tema de la puntualidad, utilizando los 5 pasos:
1) Set the Stage
Empezamos explicando la Directiva de Kerth para  poner en común el mindset de una retrospectiva: buscar conjuntamente formas de mejorar, sin buscar culpables. Este paso es realmente necesario e importante, sobre todo al tratarse de la primera retrospectiva para todos ellos.
2) Gather data
Conversamos para entender un poco mejor el problema. La puntualidad era mala no solo en la asignatura de Agile, si no en todas las del Master. No se trataba de un problema de una asignatura en concreto, o de un día de la semana, era algo sistemático, que ocurría en todas por igual.
Este punto es importante, ya que no se trataba de algo puntual con una clase, o con un formador. Personalmente, me frustraba ver que llegaban siempre tarde, y pensé que no les motivaba lo suficiente, o que algo estaba haciendo mal. Al ver que era algo generalizado, me sentí un poco mejor, pero igualmente era necesario resolverlo.
¿Cómo obtenemos la información para resolver el problema?
Durante la sesión, les pedí de forma individual, que apuntaran en un post-it a qué hora empezaban normalmente las clases, coincidiendo todos en que era siempre sobre las 9:25 – 9:30.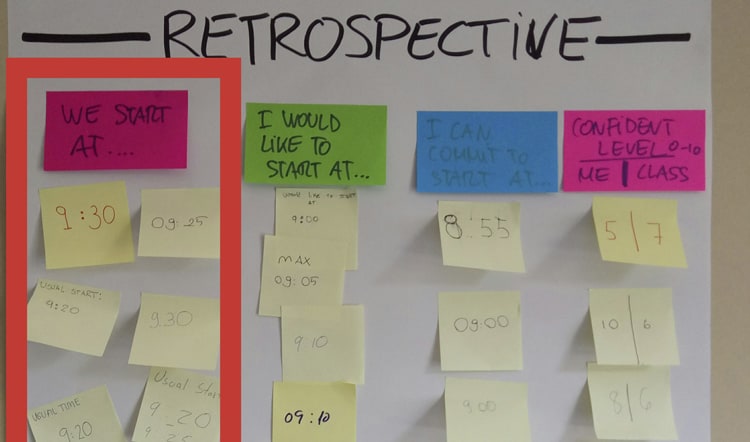 Alejado de los 5 minutos de cortesía al iniciar, las clases comenzaban cada día media hora tarde. Cómo el pez que se muerde la cola, habían creado un circulo vicioso: la clase empieza tarde, pues llego tarde y no pasa nada. «Como llego tarde, pues empieza tarde». Cambiar era imposible si no se hacía cómo un esfuerzo común por parte de todos los implicados.
3) Generate insights 
Generar un insight sobre la hora de inicio fue vital. Les pedí que apuntaran a que hora querían empezar la clase en otro post-it. Este fué el resultado:
Comprobar que sus compañeros querían empezar pronto, y que ellos mismos también, pero que la inercia les llevaba a no hacerlo, puede parecer obvio pero fue revelador. Conversamos acerca de cómo creían que se sentían sus compañeros que querían empezar pronto, pero que debido a la hora de llegada, no era posible. Empatizar entre ellos fue importante para el siguiente paso.
4) Decide «what to do»
De nuevo individualmente, les propuse que escribieran en otro post-it a qué hora se comprometían a llegar a partir de ese momento. Pudimos comprobar que el deseo de cambiar estaba allí, ya que el resultado fue que la mayoría propuso comenzar a las 9:00 o 9:05.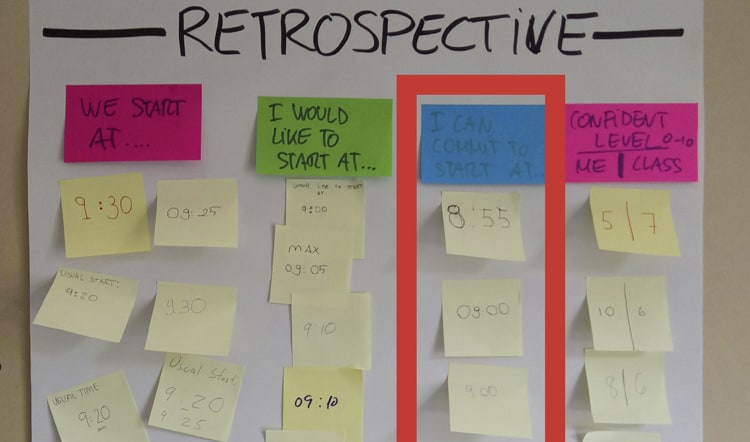 ¿Cómo utilizamos los insights que obtenemos con la metodología de Management 3.0?
Se acordó entonces que la clase empezaría puntualmente a las 9:05, como muy tarde, independientemente de los alumnos presentes en el aula a esa hora. La conversación en ese momento fue interesante, ya que todos tenían ganas de cambiar, pero la experiencia vivida les hacía pensar que no sería así, y se reflejaba en sus caras.
Así pues, la última actividad individual fue escribir en un post-it con el grado de cumplimiento del 0 a 10 al que individualmente se comprometían, así cómo el grado de cumplimiento que creían que iban a tener sus compañeros:
¿A qué hora empezaremos si es por mí?
¿A qué hora vamos a empezar realmente, a mi pesar?
"De nuevo, resultados reveladores"
Algunas de las personas  votaron 10-0. Es decir: Yo estaré puntualmente aquí cada día, pero nada va a cambiar y no vamos a empezar nunca a tiempo. La conversación otra vez en este punto fue importante para empatizar más entre ellos.
Por último, vimos que un plan de acción sin poder medir los resultados no serviría de nada. Por lo que, basándonos en la metodología de Management 3.0, creamos una tabla en un flipchart para ir recopilando 3 datos diariamente:
 El número de alumnos presentes en el aula a las 9:05
 La hora de inicio a la que realmente se empezaba la clase
 El número de alumnos presentes a la hora de inicio real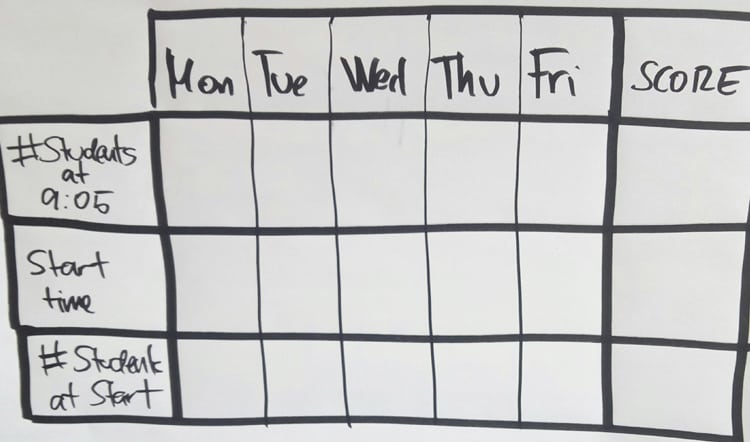 Decidimos llamarla «The Early Table» para darle un significado positivo, aunque la opción inicial fue «The Late Table». Esta tabla era la forma de visualizar la información, un sistema para hacerla transparente y pública para todos.
5) Close the Retrospective
Finalmente, en el último paso de la metodología que habíamos desarrollado para solventar los problemas asociados a la puntualidad, les pedí feedback acerca de la sesión. La opinión generalizada era positiva, aunque con dudas respecto a su efectividad.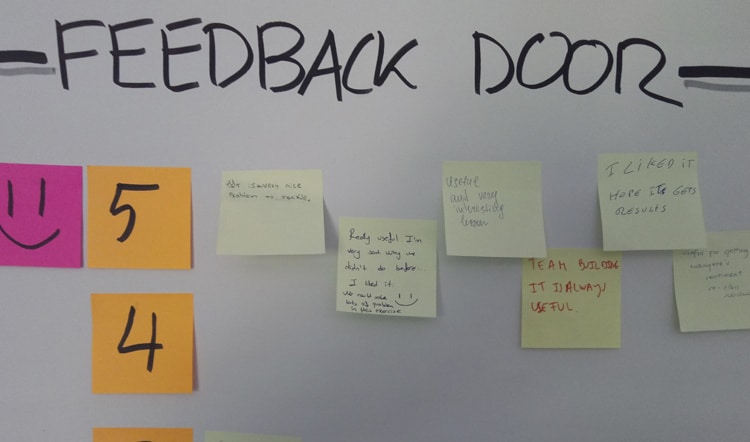 Esta sesión fue un viernes. El domingo por la tarde les envié un correo con las fotos de la sesión, dando las gracias por su participación, y recordando el compromiso que habían adquirido entre ellos. 
¿Qué resultados obtuvimos?
El lunes a las 9:00 estaban todos los alumnos menos uno. Eso no ocurría desde hacía meses. Y lo mejor de todo es que se ha sostenido en el tiempo. Esta retrospectiva fue hace 2 meses, y desde entonces casi todos los días se ha empezado a las 9:05 – 9:10.
Así que: ¡Objetivo conseguido!
La metodología de Management 3.0 busca tanto la administración del sistema cómo empoderar a las personas para que se auto-gestionen, una metodología ideada para mejorar la gestión y el liderazgo. Imponer una hora de inicio no funcionó. Crear un entorno donde ellos mismos se auto-impusieron una hora de inicio y poder hacer un seguimiento transparente sí que funcionó.
Si quieres aprender el mindset que hay detrás de este enfoque y practicar técnicas, juegos y actividades orientadas a cambiar tu entorno de trabajo como pueden ser las Kudo Cards, Management 3.0 te puede ayudar, sin ninguna duda. Conoce también en este enlace herramientas del Management 3.0 como la matriz de competencias y lottery factor.