"The global business analysis community has been eagerly awaiting the release of BABOK® Guide v3.  As the most comprehensive guide for the global BA community, BABOK® Guide v3 is the essential resource to help practitioners and their stakeholders deliver business value and create better business outcomes."

Stephen Ashworth, President and CEO, IIBA
El pasado 15 de abril, el
International Institute of Business Analysis™ (IIBA®)
anunció la esperada publicación de
A Guide to the Business Analysis Body of Knowledge®(BABOK® Guide) v3
. En los seis años que van desde la anterior versión (publicada en 2009) a esta nueva versión 3, ha habido  varios cambios importantes relativos a la función del análisis de negocio, y
la importancia creciente que está teniendo en las organizaciones
, y estos cambios se han recogido en la nueva Guía del BABOK®. (ver al respecto el post anterior) Esta nueva versión surge después de un proceso de desarrollo de varios años donde han contribuido más de 5000 profesionales del Business Analysis con el objetivo de
revisar, ampliar y poner al día
los conocimientos, técnicas y habilidades que debe poseer un buen analista de negocio. Se ha buscado, además,
una mayor alineación con otros métodos y estándares
como CMMI, COBIT,
TOGAF certification
o SAFe.
El resultado expande el alcance del análisis de negocio, proporcionando guía, dirección y soporte a los analistas en áreas como
Agile
,
Business Intelligence
,
tecnologías de la información (IT)
,
Arquitectura de Negocio
y
Gestión de Procesos de Negocio
.
Guía del Babok v3
En este post intentamos resumir
las novedades más relevantes
de esta nueva versión.
1. Introducción del Business Analysis Core Concept Model (BACCM)
BACCM es un modelo conceptual para la profesión de Business Analysis. Comprende seis conceptos con un significado común para todos los analistas de negocio, que son:
Cambio
,
Necesidad
,
Solución
,
Interesado
,
Valor
y
Contexto
. Este modelo pretende dotar de una terminología común que sea aplicable en cualquier tipo de organización, proyecto o perspectiva relativa al análisis de negocio. Una de las consecuencias de la aparición de este modelo conceptual, es un cabio en la propia definición de lo que es el Business Analysis. En esta nueva versión 3 se define como "
la práctica de permitir cambios en una organización definiendo necesidades y recomendando soluciones que entreguen valor a los interesados
".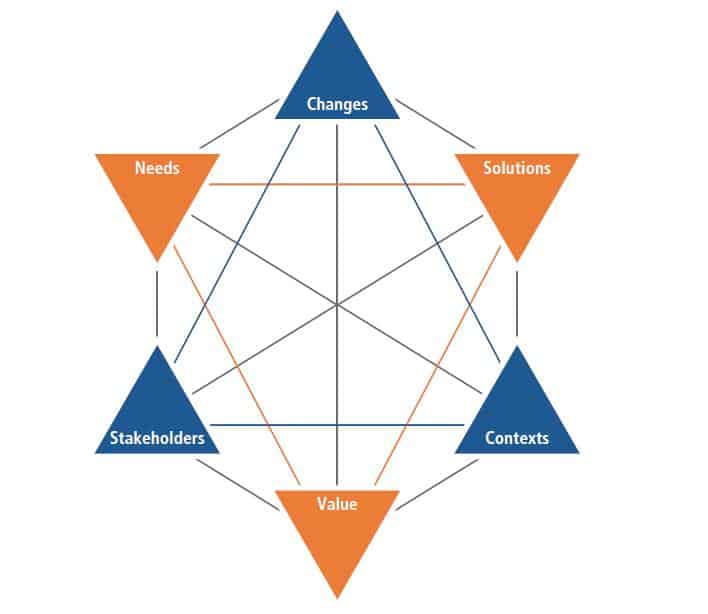 2. Diferencia entre requisitos y diseño
Se incorpora en esta guía la diferenciación entre estos dos conceptos, aun advirtiendo que los límites entre ellos no son siempre claros. "
Los requisitos se focalizan en la necesidad, los diseños se focalizan en la solución. Un requisito lleva a un diseño que, a su vez, conduce al descubrimiento y análisis de más requisitos
"
3. Revisión y refinamiento del contenido de las Áreas de Conocimiento
Las Áreas de Conocimiento de Business Analysis son seis (como en la versión anterior) pero algunas se han renombrado y redefinido con diferentes actividades y resultados. Las nuevas áreas de conocimiento son:
Business Analysis Planning & Monitoring
Strategy Analysis
(en la versión anterior era Enterprise Analysis)
Elicitation & Collaboration
(en la version anterior era Elicitation)
Requirements Analysis & Design Definition
(en la version anterior era Requirements Analysis)
Solution Evaluation
(en la version anterior era Solution Assessment and Validation)
Requirements Life Cycle Management
(en la version anterior era Requirements Management and Communication)
4. Actualización de las técnicas habituales
Se añaden 15 nuevas técnicas. Algunas con orientación Agile, como Backlog Management, o técnicas para la comprensión y el análisis del negocio y la organización como el Business Canvas o el BusinessCase. También se incluyen en esta versión como técnica los juegos colaborativos.
5. Se añade el concepto de Perspectivas
Cada perspectiva describe disciplinas especializadas, en función del tipo de trabajo de análisis a realizar. La Guía BABOK define cinco perspectivas diferentes:
Agile
,
Business Intelligence
,
Information Technology
,
Business Architecture
y
Business Process Management
. Las perspectivas no son excluyentes entre sí, podemos emplear más de una perspectiva para afrontar una iniciativa determinada (Agile y IT, por ejemplo). Finalmente, para aquellos interesados en obtener la Guía del BABOK® v3 conviene tener en cuenta lo siguiente:
Actualmente únicamente está publicada en inglés, el IIBA no se ha comprometido en una fecha para su publicación en español
Los exámenes de certificación seguirán basándose en la Guía del BABOK v2. El IIBA publicará con una antelación de 4 a 6 meses el cambio a la nueva versión.
Para más información de la
Guía del Babok v3
:
www.iiba.org