ITIL
®
apuesta por las mejoras graduales y continuas. Este también es el enfoque que AXELOS, propietaria de ITIL
®
desde 2013, ha adoptado para hacer evolucionar el framework de ITIL
®
. En esta línea, recientemente AXELOS ha lanzado una nueva publicación ITIL
®
Practitioner Guidance  que se añade y cumplimenta a los cinco libros básicos. En paralelo a esta nueva publicación, AXELOS lanza una nueva certificación:
ITIL® Practitioner Certification
adicional a las actualmente existentes. El único requisito es disponer de ITIL
®
Foundation Certificate. No se requiere esta nueva certificación para acceder a las certificaciones Intermediates, y aporta 3 créditos para la certificación de ITIL
®
Expert.
1. LA GUIA
El libro
ITIL® Practitioner Guidance
está estructurado en 7 capítulos:
Introduction
Implementar ITIL
®
no debe ser una meta en sí misma. En el libro se sugiere que la organización debe
adoptar
la cultura de orientación al servicio y al cliente, y
adaptar
la implementación de las best practices a las circunstancias y objetivos de la organización. En este capítulo se profundiza en los conceptos, de servicio, gestión del servicio, proveedor de servicio, cliente, valor, resultados (outcomes) y salidas (outputs), costes, riesgos y modelos básicos de prestación de servicios. Conceptos, todos ellos, imprescindibles en la implementación de la gestión de servicios.
Guiding principles
El capítulo presenta 10 principios básicos para que sirvan de guía en una implementación exitosa de ITSM. Estos principios son compatibles con los de otros frameworks como Lean, Agile o DevOps.
The CSI approach
La guía propone que cualquier proyecto de mejora, independientemente de su propósito, tamaño, o complejidad, se articule siguiendo el enfoque CSI (Continual Service Improvement). Cada paso del enfoque CSI está soportado por una serie de técnicas y plantillas que son desarrolladas en el capítulo 7 Toolkit.
Metrics and measurements
En el corazón del enfoque CSI están las metas y los Indicadores Clave de Rendimiento. En este capítulo se explica las razones por las que se debe medir, qué papel juegan los Factores Críticos de Éxito y los KPIs, las estructuras jerárquicas de objetivos y las métricas. Así mismo, se describe el papel que juegan los assessments en los proyectos de mejora.
Communication
El capítulo describe los beneficios de una adecuada comunicación y los ilustra con ejemplos de buena comunicación. De igual manera se pone en evidencia las dificultades que puede generar una mala comunicación.  Identifica y desarrolla los principios y las técnicas de la buena comunicación.
Organizational change management
Mejorar es cambiar, y cambiar genera resistencias. Conseguir que una organización abandone las prácticas actuales para abrazar unas nuevas es el principal reto al que se enfrentará. Este capítulo ofrece las claves que se han de tener en consideración para provocar el cambio exitoso en la organización.
Toolkit
Uno de los principales valores de la guía la encontramos en este capítulo, con más de 40 técnicas y plantillas. Cada paso del enfoque CSI, cada recomendación sobre métricas, cada técnica de comunicación y de gestión del cambio organizacional descrita en los capítulos anteriores, está soportada por una plantilla descrita en este capítulo. Esta "caja de herramientas" facilita que se supere el vértigo a la hoja en blanco. Vértigo al que se enfrenta todo participante en un proyecto de mejora.
2. CURSO y CERTIFICACIÓN
El
propósito
es el de demostrar que el profesional puede aplicar los conceptos ITIL
®
en su organización. El
syllabus
(plan de estudio) está estructurado en 6 apartados, siguiendo la misma estructura que la guía. El alumno deberá demostrar que sabe cómo:
Usar los conceptos de Gestión de Servicios que son importantes en la mejora continua del servicio
Aplicar los principios que guían la ITSM en el contexto del mundo real
Aplicar el enfoque CSI para gestionar mejoras en un contexto organizacional dado
Usar métricas y mediciones para posibilitar la mejora continua
Comunicar de manera efectiva para posibilitar la mejora continua del servicio
Aplicar la gestión del cambio organizacional para dar soporte a la mejora continua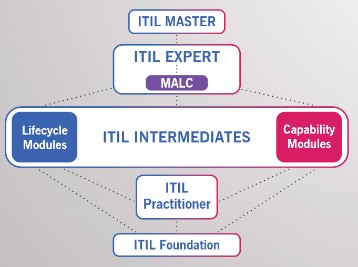 El
examen
consta de 40 preguntas tipo test con 4 opciones, sólo una válida. Se supera el examen con 28 aciertos de los 40 posibles (70%). Muchas de las preguntas están basadas, o en alguno de los 5 escenarios que describen a 5 empresas, o bien, a la relación que tienen entre ellas. Para cada uno de los 6 apartados del syllabus, las preguntas pueden tener además, una información adicional específica, que cumplimenta a los escenarios. De esta manera, se plantean problemáticas reales de diferente tamaño y alcance. Una novedad en este examen es la de que el alumno puede consultar el libro ITIL
®
Practitioner Guidance. Como he comentado anteriormente, esta certificación no es prerrequisito para ninguna otra de ITIL
®
. Pero sí que precisa que el profesional disponga de la certificación de ITIL
®
Foundation. Al igual que ITIL
®
Foundation, el curso de ITIL
®
practitioner no es obligatorio. La certificación aporta 3 créditos de cara a obtener los 22 necesarios para ITIL
®
Expert. AXELOS plantea una
duración
del curso
mínimo de 2 días, sin tener en cuenta el tiempo de examen. El enfoque del curso está pensado para que sea muy interactivo, intenso en actividades y/o ejercicios, e intenso en ejemplos prácticos y/o casos de estudio. El syllabus está enfocado para que se pueda combinar con los otros cursos de ITIL
®
, tanto con el ITIL
®
Foundation como los otros cursos de ITIL
®
Intermediate. La combinación de
ITIL® Foundation + ITIL® Practitioner
es excelente, ya que proporciona al alumno una visión general de lo que consiste la Gestión de los Servicios de TI con una visión práctica de cómo implementarlo. De esta forma, en 5 días (3 para ITIL
®
Foundation y 2 para ITIL
®
Practitioner) el alumno adquiere los conocimientos necesarios para participar en un proyecto de implementación de gestión de servicios TI.