¡Ya hemos publicado The Learning Initiative Canvas en Miroverse!
¿Para qué sirve The Learning Initiative Canvas?
Esta herramienta sirve para diseñar visualmente un programa de formación a medida para uno o varios colectivos dentro de una organización.
Muchas veces, para diseñar un curso personalizado es suficiente con The Course Design Canvas. Sin embargo, en una iniciativa de transformación que involucre a decenas, cientos o miles de personas, es necesario tener una visión amplia del programa de aprendizaje que vaya más allá de un curso o un conjunto de cursos. 
Para iniciativas grandes que necesitan varios cursos e itinerarios de formación y actividades basadas en aprendizaje organizacional, utilizamos The Learning Initiative Canvas, facilitando el proceso de diseño de un programa de aprendizaje.
¿En qué se diferencia de The Course Design Canvas?
Su diferencia es una cuestión de escala y objetivos. The Course Design Canvas está pensado para diseñar una formación que puede durar desde unas pocas horas hasta unas decenas de horas lectivas, para un mismo público objetivo. En cambio, utilizaremos The Learning Initiative Canvas cuando se quiere llevar a cabo una iniciativa de formación más grande, para diferentes perfiles, más dilatada en el tiempo, en el que se ha de tener en cuenta los contenidos, los objetivos de aprendizaje, el contexto, la metodología… Cuando vas a realizar un esfuerzo tan grande, es recomendable plantearte qué objetivos de negocio y qué cambios de comportamiento quieres conseguir en tu organización, así como la forma de medir su impacto. The Learning Initiative Canvas te ayuda a tener todo esto en cuenta, visualizando de forma simultánea la información clave durante el diseño. The Learning Initiative Canvas resume visualmente los aspectos más importantes, facilitando la coherencia entre ellos, al tiempo que nos permite entrar en detalle en cada uno de sus apartados.
Y, ¿Cómo lo puedo utilizar?
1. Buscando el nombre de la plantilla "The Learning Initiative Canvas"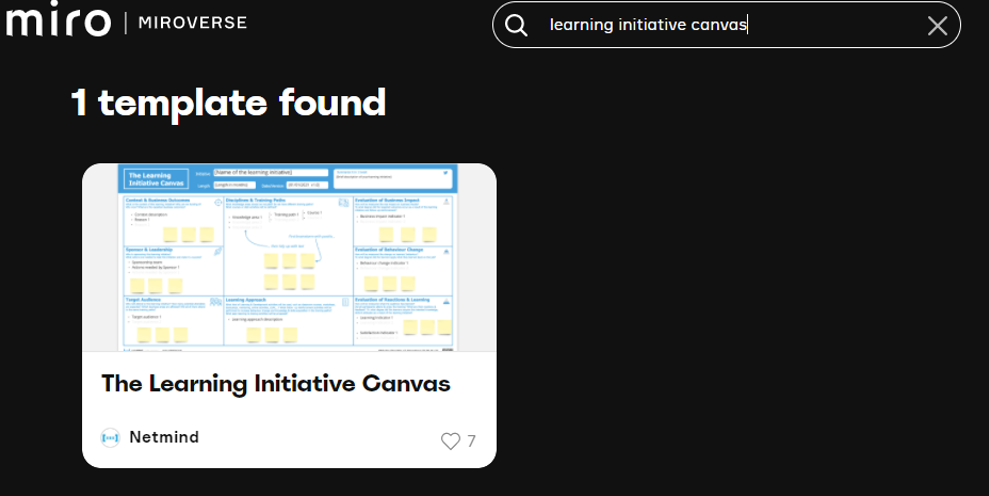 2. O bien primero buscando el perfil de Netmind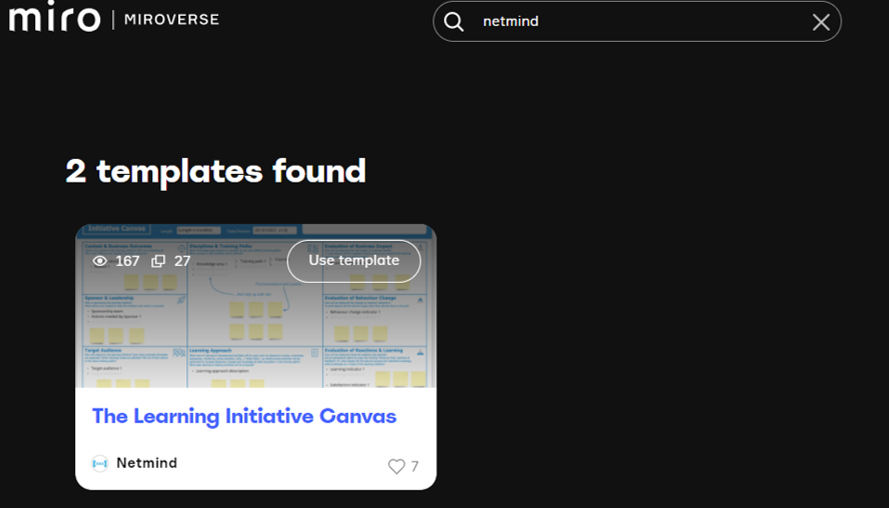 Para utilizarla, solo necesitas hacer click en el botón "Use Template" y se abrirá un nuevo board en tu cuenta de Miro para que puedas comenzar a trabajar. Si no tienes cuenta de Miro, te sugerirá que crees una cuenta de forma gratuita.
A la izquierda del board hemos incluido unas instrucciones para ayudarte a rellenar el Canvas, con post-its y cuadros de texto pre-configurados para que te sea más sencillo completar la información.
Y cómo no, ¡Acuérdate de darle a Like y Compartirla! 😊
– Sonsoles Saiz y Miquel Rodríguez.