Los mánagers en el cambio. (Parte 1)
"El cambio organizacional es un viaje peligroso"
(The Effective Change Manager's handbook, 2015)
Peligroso porque estamos en un contexto de complejidad e incertidumbre. Porque involucra a personas y cada una de ellas dejará su propia huella en él.
¿Y cómo empieza este "viaje peligroso"? Alguien, en algún estrato organizacional tiene una idea de un cambio, esa idea se comparte y comunica hasta el nivel que se decide apostar por ella. Se invierte en la idea y se nombra a alguien con responsabilidad suficiente para esponsorizar la iniciativa. A través de sucesivas etapas, el cambio llega a cada una de las áreas o unidades de la organización que buscan la mejor manera para adoptar el cambio, conciliándolo con sus obligaciones en las actividades habituales (o BAU, Business as Usual), hasta que es aceptado por las personas que adaptan su manera de trabajar al cambio propuesto. Finalmente, con suerte y mucho esfuerzo, el cambio se adopta y consigue que la organización sea mejor. El cambio no tiene éxito hasta que es incorporado a la actividad habitual de la organización.
Y si pensabais que aquí se acaba, siento deciros que no es verdad. Estamos en un contexto de cambio constante. El ser humano, y también las organizaciones, viven en un estado de cambio social, político, económico y tecnológico constante. Y, por lo tanto, ese 'viaje peligroso' no se acaba nunca, es un ciclo sin final, en el que continuamente estaremos adaptándonos al cambio.
Y en este viaje necesitamos liderazgo. Liderazgo compartido entre las personas que atravesarán por el cambio. Necesitamos líderes en cada uno de estos niveles organizacionales, que hablen en el lenguaje adecuado, que sepan apelar a los problemas y dificultades que se perciben en ese estrato concreto y que sepan conectar con el resto.
En este conjunto de artículos me voy a centrar en concreto en uno de los líderes imprescindibles en todos los cambios, en el papel clave de los mánagers (senior managers y middle managers). Personas con capacidad de decisión, responsables de equipo, que deberán guiar y acompañar a sus equipos a lo largo del cambio.
El rol de los mánagers en este punto es clave, pero también muy complicado. Debe ser capaz de compaginar sus obligaciones en la actividad habitual, muchas veces ligadas a objetivos de rendimiento y consecución de metas, con la necesidad de la organización de cambiar.
Más complicada si cabe teniendo en cuenta que los mánagers también son personas (¿teníais alguna duda al respecto?) y que ellos atravesarán por su propia curva del cambio.
Edwards Deming decía al respecto "no es suficiente con que los mánagers se comprometan con la calidad y la productividad, tienen que saber lo que tienen que hacer. Esta responsabilidad no se puede delegar".
Los mánagers no pueden delegar su papel imprescindible en el cambio. No es solo que lo apoyen, es que tienen que liderarlo. Si tenemos la imagen de ese jefe cerrado en su despacho que da órdenes, lo siento, pero ese no nos sirve. No es el mánager que buscamos en nuestro cambio constante.
El cambio que debe impulsar el mánager empieza por él. Si queremos crear un entorno en el que el cambio sea la constante organizacional, los mánagers deben cambiar su manera de hacer management. El papel del mánager como modelo de comportamiento (role model) va a impulsar el cambio en sus equipos mucho más que cualquier acción de comunicación que podamos pensar.
¿Y cuáles son Las características principales que debe tener el mánager en nuestro viaje constante? Debe mantener una visión holística, o sistémica: trabajar en nutrir el entorno, más que en "apagar fuegos" o "controlar el trabajo". Es más un agricultor, que un bombero o un policía de tráfico.
En este viaje por el cambio constante, necesitamos mantener la energía organizacional de cambio alta. Y esa es la principal responsabilidad del mánager.
Tiene que haber energía de cambio para poder cambiar. Pero ¿qué quiere decir eso? podríamos definirlo como el estado anímico global de la organización para asumir un nuevo cambio. Sin energía para cambiar, no es posible hacerlo. En Management of Portfolios (AXELOS, 2011) se define como "la medida en que una organización (o área o equipo) ha movilizado su potencial emocional, cognitivo y de comportamientos para perseguir sus objetivos".
Esa energía dependerá de muchos factores, entre ellos el contexto (social, tecnológico, político) en el que nos encontremos, pero también de factores internos. En concreto, de la intensidad o carga de trabajo percibida, y de la sensación de la calidad de nuestro trabajo.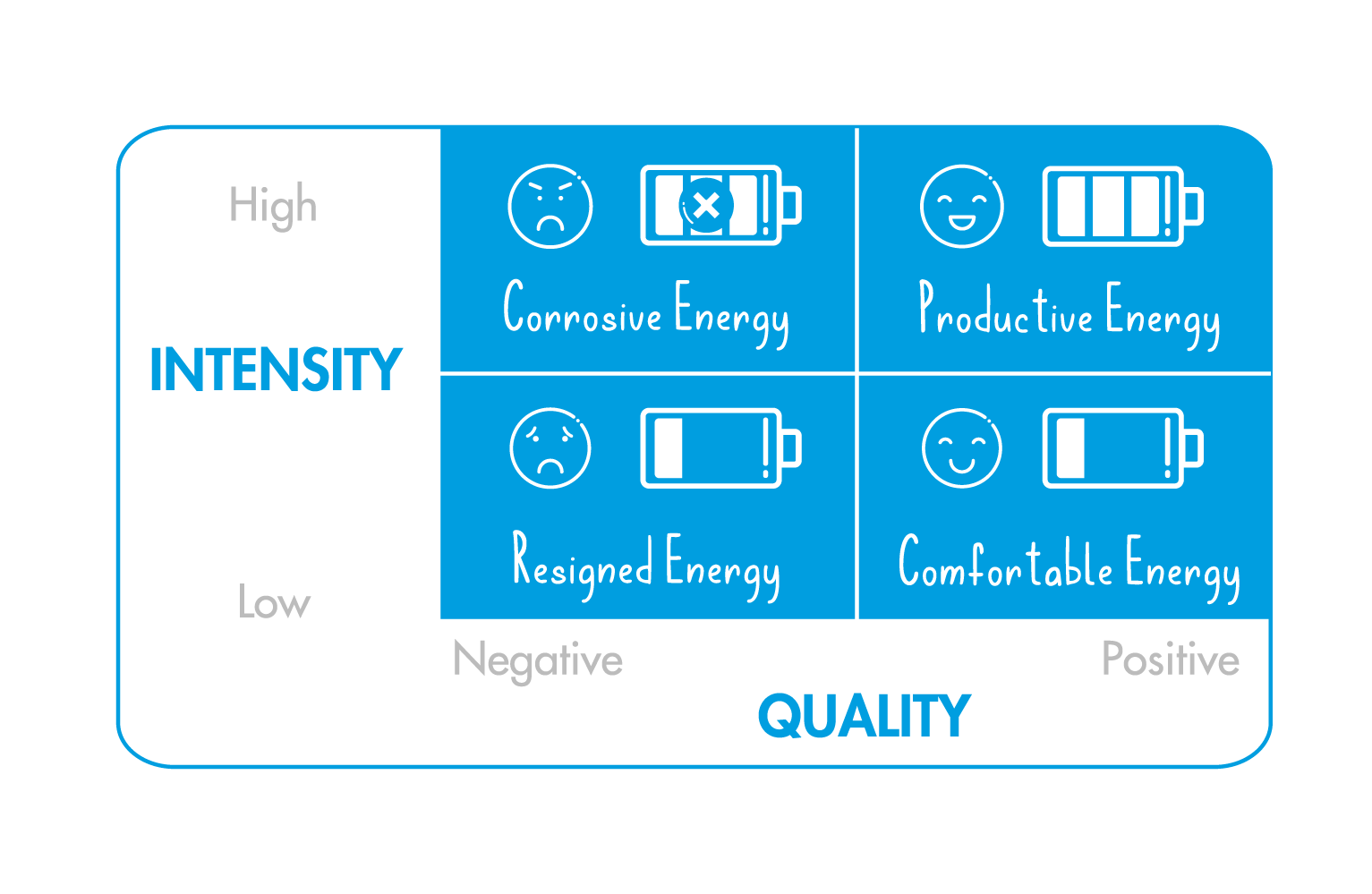 La intensidad del trabajo puede ser alta o baja, y la percepción de si trabajamos bien o no también podrá ser alta o baja. En base a esos dos ejes, Bruch and Vogel identifican cuatro estados diferentes de energía organizacional. Los describo a continuación de manera general. Sé que hay muchos matices a considerar, la explicación y los ejemplos los aporto para clarificar mejor el significado, no para afirmar que siempre es así.
Cuando la intensidad es baja y la calidad percibida es baja, las personas adoptan una actitud resignada. El "yo hago lo que me dicen y no me pidas más". No estoy contento, pero tampoco estoy estresado, con suerte el fin de semana llegará pronto. Es el estado de energía resignada. Introducir cambios en este estado será difícil porque el nivel de compromiso y de proactividad será bajo, y necesitarán ser fuertemente supervisados.
Cuando la intensidad es baja pero la calidad percibida es alta, las personas están cómodas. El trabajo no les exige, y el resultado de su trabajo ya es correcto. Es el estado de energía confortable. Por lo tanto, ¿para qué cambiar? Las personas preferirán el status quo, cualquier cambio será percibido como enemigo.
Cuando la intensidad es alta y la calidad es baja, las personas dedicarán su energía a cuestionar las decisiones, buscarán maneras de hacer menos trabajo o de entregarlo rápidamente sin calidad, para sacárselo de encima. Es el estado de energía corrosiva. Introducir cambios en este estado puede ser una bomba de relojería "ya tenemos suficiente trabajo como para hacer más".
Finalmente, si hay intensidad, pero la calidad percibida es alta, las personas estarán comprometidas, orgullosas de su trabajo. Estamos en el estado de energía productiva. Ellos mismos buscarán activamente los cambios que les permitan mejorar en su trabajo.
Desde el punto de vista del cambio constante, la organización deberá velar por mantener la energía organizacional en estado productivo. Esa es la base sobre la que crear la competencia de adaptación al cambio en la organización.
Y para ello, los mánagers deberán nutrir al sistema aportando diferentes fuentes de energía en sus equipos. ¿Cómo? ¡Lo veremos en la segunda parte (Los mánagers en el cambio. Parte 2)!
Si queréis más información respecto a estos temas, contactad con nosotros o consultad nuestro catálogo de formación y servicios en liderazgo transformador.