En un artículo anterior os presentamos el DSDM Agile Project Framework Handbook publicado por el
Agile Business Consortium
en 1994, como uno de los más antiguos marcos de trabajo ágil. El marco está compuesto principalmente por:
Principles (comportamiento)
People (roles y responsabilidades)
Process (el ciclo de vida)
Products (qué producimos y cuando)
Practices (timeboxing, modelling, iterative development, prioritization and facilitated workshops).
Cubriendo de este modo los diferentes elementos de un proyecto ágil en un solo framework. En este artículo quería profundizar en los principios del framework, comparándolo con el Agile Manifesto. Los
8 principios
de DSDM Agile PF son los siguientes:
Focus on the Business Need
Deliver on Time
Collaborate
Never Compromise Quality
Build Incrementally from Firm Foundations
Develop Iteratively
Communicate Continuously and Clearly
Demonstrate Control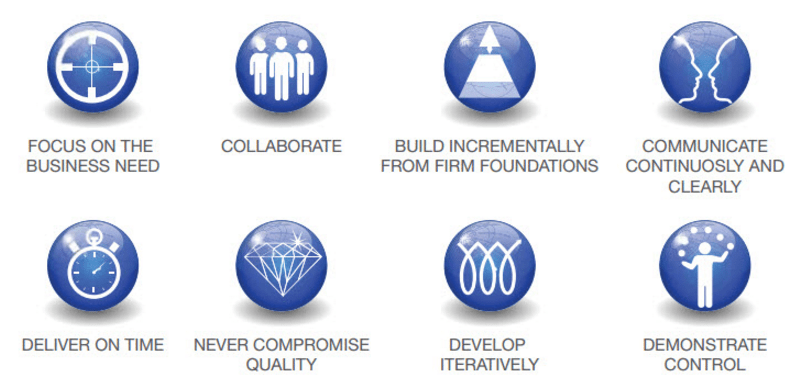 Vayamos por partes:
Focus on the Business Need. Toda decisión en el proyecto debe estar alienada con los objetivos del proyecto, y con resolver las necesidades de negocio. Priorizar adecuadamente es un factor clave. El primer principio del Agile Manifesto nos dice "Our highest priority is to satisfy the customer through early and continuous delivery of valuable software." Satisfacer al cliente, centrarnos en sus necesidades.
Deliver on Time. Entregar a tiempo según lo acordado es importante, el time-to-market en un entorno IT es crucial. No podemos fallar en las fechas. El 3er principio del Manifesto "Deliver working software frequently, from a couple of weeks to a couple of months, with a preference to the shorter timescale." La entrega frecuente, mediante timebox o iteraciones cortas, es por tanto común en ambos.
Collaborate. Los equipos que trabajan de forma colaborativa serán más productivos, más eficientes, entregarán más valor. Aquí el Manifesto insiste en varios puntos: desde uno de sus valores "Customer collaboration over contract negotiation", hasta el principio "Business people and developers must work together daily throughout the project", la colaboración es un foco para ambos.
Never Compromise Quality. El nivel de calidad a entregar debe ser acordado al empezar, y no podemos bajar el nivel para cumplir fechas, algo desgraciadamente habitual en proyectos tradicionales. Aquí el Manifesto también es muy claro al decir "Continuous attention to technical excellence and good design enhances agility."
Build incrementally from Firm Foundations. Uno de los factores diferenciales de DSDM en Agile es el concepto de establecer unos buenos fundamentos para el proyecto antes de comprometerse e iniciar un desarrollo más costoso. Encontrar un equilibrio entre entender el alcance del problema y de la solución, sin caer en analisys paralisys.
Develop Iteratively. El concepto de iteración está en la base de DSDM. Entrega frecuente, revisión y feedback forma parte del enfoque de desarrollo de la solución. Desde el Manifesto tenemos "Deliver working software frequently, from a couple of weeks to a couple of months, with a preference to the shorter timescale." y "At regular intervals, the team reflects on how to become more effective, then tunes and adjusts its behavior accordingly", ambos totalmente alineados con este principio y las prácticas que proponen el framework.
Communicate Continuously and Clearly. Una comunicación pobre está considerada como uno de los principales motivos de fracaso en los proyectos. Las prácticas propuestas en DSDM (workshops, daily meetings, …) están enfocadas a paliar este problema, así como el Manifesto al expresar "The most efficient and effective method of conveying information to and within a development team is face-to-face conversation."
Demonstrate Control. Necesitamos saber y compartir que el proyecto transcurre según lo planificado, mostrando el progreso en forma de valor entregado y con transparencia. Tal como dice uno de los principios del Manifesto, "Working software is the primary measure of progress."
Después de este análisis, podemos ver claramente como DSDM Agile Project Framework está totalmente alineado con el Agile Manifesto. Estos 8 principios fueron publicados en 1994, unos 7 años antes de la creación del Manifesto. La presencia de DSDM en el Manifesto estuvo representada por
Arie Van Bennekum
, uno de los principales autores del framework. Tal como comentamos en el artículo anterior, no es casualidad que el Manifesto tenga también unos principios, algo que sin duda heredó de DSDM. En siguientes artículos seguiremos profundizando en este framework, cada vez más utilizado por empresas que están aplicando un enfoque más ágil a sus proyectos IT. Por último, no dudéis en informaros de nuestras convocatorias de cursos y certificaciones en 
AgilePM
 y 
AgileBA.