Netmind colabora con Festival Agile Trends 2021, festival ágil que tendrá lugar del 25 al 28 de enero en remoto. El objetivo de esta edición es descubrir los principales desafíos que nos depara el 2021 y cómo superarlos a través de la agilidad. 
¿Qué es Festival Agile Trends?
Agile Trends es un evento online y gratuito con conferencias ofrecidas por expertos y profesionales del mundo Agile. Estos ponentes compartirán su conocimiento y experiencias con el objetivo de ayudar a todos los interesados en desarrollar y mejorar sus prácticas ágiles.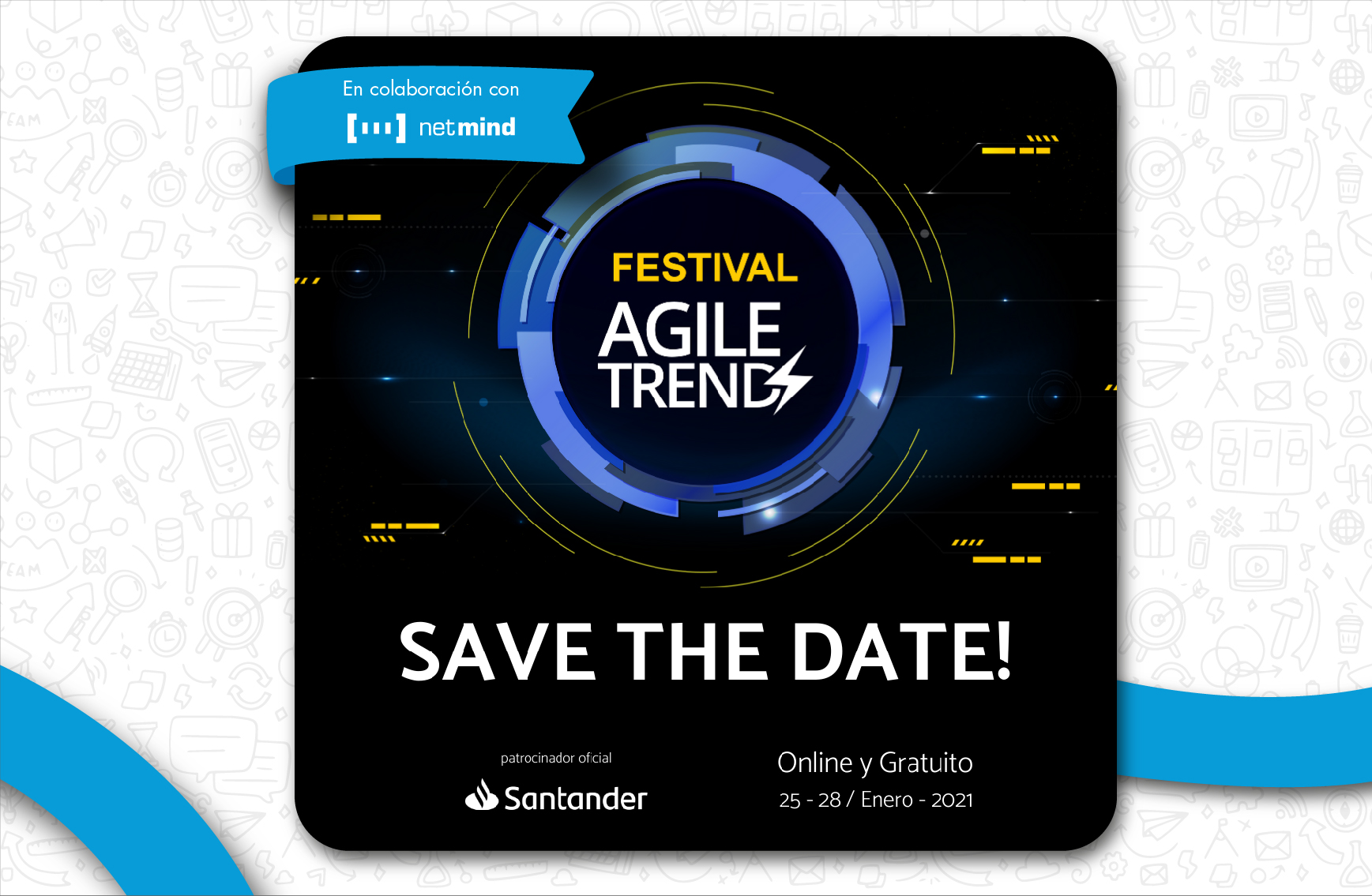 ¿Cómo será la nueva edición?
El festival contará con más de 80 sesiones y ponencias que reflexionaran sobre cómo la agilidad puede ayudarnos en este nuevo año. Los temas y discusiones estarán orientados por retos, haciendo el festival más dinámico y entretenido.
El evento durará 4 días, empezando a las 9am hasta las 2pm. Cada día el evento estará dedicado a desafíos relacionados con un tema principal. Los cuatro temas principales serán:
Entrega de Valor y Eficiencia
Desarrollo de Producto e Innovación
RRHH y Cultura
Organizaciones Ágiles.
Las ponencias tendrán una duración máxima de 15 minutos y los expertos abrirán debates que permitirán intercambios de ideas y aportaciones de lo más interesantes.
¿Quién participará?
El Festival Agile Trends ha confirmado algunos de los keynotes para esta próxima edición. Entre ellos destacan Sarah Elk, autora del libro "Doing Agile Right", Javier San Félix, SEVP de Banco Santander y COO de PagoNxt y Mary Poppendieck, autora de Lean Software Development.
Además, desde Netmind, nos enorgullece informar que nuestros Lead Experts Alfred Maeso , Juan Luis Jimeno, Miquel Rodríguez y Alonso Alvarez participarán como ponentes y moderadores en Agile Trends 2021.
Alfred Maeso, formador experto en Change Management, Business Analysis, Portfolio, Program y Project Management, dirigirá la ponencia "Midiendo comportamientos para medir valor", dentro el track "Entrega de Valor y Eficiencia". En la charla reflexionaremos sobre qué es el valor y como está relacionado con el cambio de comportamiento de los usuarios. Alfred nos ha adelantado como será la estructura de su ponencia, que durará 15 minutos:
Foco en outcome
Valor y comportamientos
¿Qué comportamientos queremos provocar?
¿Cómo medimos los comportamientos?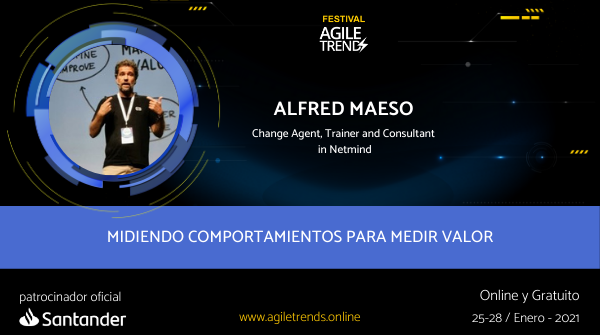 Juan Luis, formador experto en Innovación Digital y Transformación del Aprendizaje, conducirá la charla "Design Thinking para una economía de impacto: creando valor para el cliente y la sociedad". En esta ponencia profundizaremos en la metodología Design Thinking, que tradicionalmente se ha centrado en la entrega de valor al cliente, y descubriremos porque esto ya no es suficiente hoy en día. Juan Luis nos explicará el nuevo reto de Design Thinking: pasar del user-centered al system-centered.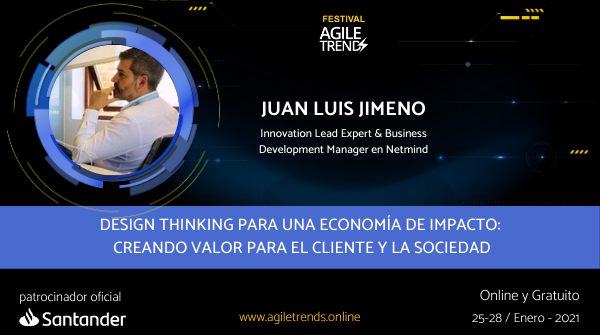 Además de esta ponencia, Juan Luis unirá fuerzas con Miquel Rodríguez, director de Consultoría de Netmind experto en Business Agility e Innovació, para realizar un workshop titulado "(Design) Thinking out of the box". Los dos expertos de Netmind nos mostrarán y practicarán diferentes técnicas basadas en Design Thinking para llevar sus beneficios a todos los ámbitos de las organizaciones.
El workshop, que tiene una duración prevista de 55 minutos, tendrá lugar el miércoles 27 de enero a las 11.00 horas. ¡No os lo podéis perder!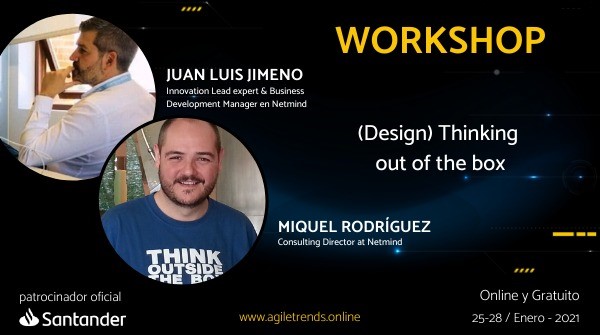 ¡Esto no es todo!, otro netminder, Alonso Alvarez, lead expert en Agilidad Empresarial y organizaciones agiles, moderará una mesa redonda sobre Cultura Ágil el jueves 28 a las 10:40 horas. Con una duración aproximada de 15 minutos, este debate promete hacernos reflexionar y mejorar nuestro conocimiento sobre la agilidad en nuestras empresas.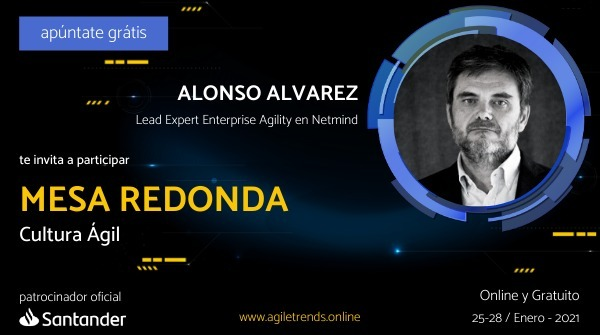 ¿Cómo atender?
Para atender al Festival Agile Trends 2021 debes registrarte a través de un rápido formulario que puedes encontrar en la web de Agile Trends. Después de registrare recibirás el enlace de acceso al evento. Hay vacantes limitadas así que no lo dejes para el último momento.
Desde Netmind tenemos muchísimas ganas que llegue el 25 de enero para disfrutar de un nuevo Festival Agile Trends. Recordando la pasada edición os recomendamos que no os la perdáis.
¡Guarda el día en el calendario!