Si hoy es viernes, significa que hoy es el último artículo de la #semanaDSDM. Durante la semana os hemos introducido el DSDM Agile Project Framework, hemos
profundizado en sus principios
, hemos
analizado el ciclo de vida
de los proyectos ágiles, y hemos visto qué
productos nos propone elaborar
durante el mismo. Más adelante entraremos en detalle de las principales prácticas que nos sugiere (
MoSCoW
,
Facilitated Workshops
, …) así como ejemplos de aplicación del
framework
en nuestros clientes. Pero en el último artículo de esta serie vamos a ver los diferentes roles y responsabilidades que deben cubrirse en un proyecto gestionado con DSDM. En esta imagen podemos visualizar los diferentes roles, sus intereses (a partir del color) y el nivel (
Project
,
Solution Development Team
,
Supporting
) al cual pertenecen.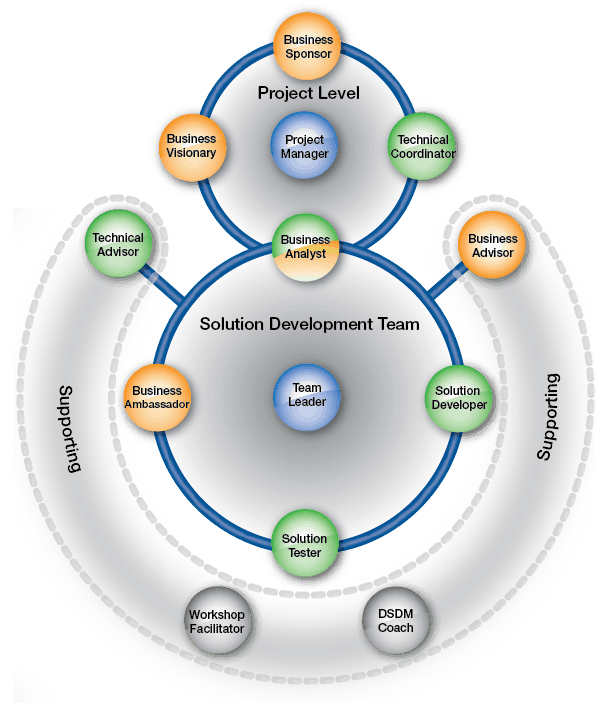 Siguiendo la misma codificación de colores que los productos DSDM, tenemos los roles agrupados por interés:
Productos DSDM: Roles agrupados
Business-oriented Roles. Color naranja, nos proporcionan la perspectiva de negocio.
Solution/technical oriented Roles. Color verde, representan la perspectiva técnica.
Management/leadership oriented Roles. Color azul, agrupan los roles enfocados a la gestión y liderazgo del proyecto
Process-oriented Roles. Color gris, son aquellos que nos ayudan a definir y seguir correctamente los procesos
Antes de entrar en detalle, conviene recordar que dos de los principios de DSDM son la Colaboración y la Comunicación. Personas trabajando en equipo de manera eficiente forman la base de cualquier proyecto exitoso. Citando textualmente,
«The best solutions emerge from self-organising, empowered teams»
. Detalla además 3 factores clave: el
respeto
entre los miembros del equipo, el
compromiso
y la responsabilidad personal para llevar a cabo tu trabajo, y el
coraje
para mejorar continuamente la forma de trabajar en equipo. Son tres de los cinco
valores de Scrum
, junto con
Focus
y
Openness
, que DSDM tiene descritos en sus principios. Una vez más, como hemos visto en el resto de artículos de la serie, Scrum y DSDM están totalmente alineados. Estos son los 13 roles de DSDM:
Productos DSDM: 13 Roles
Business Sponsor. Es el rol más senior a nivel de proyecto. Con un interés totalmente enfocado al negocio, está totalmente comprometido con el proyecto, con la solución propuesta y con el enfoque para conseguirlo. Es el responsable tanto del Business Case como del presupuesto del proyecto.
Business Visionary. Nos proporciona la visión del proyecto, interpretando las necesidades del Sponsor y de los futuros usuarios de la solución, es el responsable de comunicarlo y marcar la dirección a seguir a todos los integrantes del equipo. Para evitar posibles duplicidades o inconsistencias en la visión, se recomienda que este rol lo lleva a cabo una única persona.
Technical Coordinator. Principal autoridad técnica del proyecto, nos asegura que estamos diseñando una solución alineada con las necesidades técnicas de la organización, que disponemos de los skills adecuados en los roles técnicos, y que éstos trabajan de manera adecuada. Es el equivalente al Business Visionary pero desde una perspectiva técnica.
Project Manager. Además de proporcionar un liderazgo siguiendo principios ágiles al Solution Development Team, su papel se centra en la gestión del entorno de trabajo en el que evoluciona la solución. Facilitador y coordinador de la gestión del proyecto, delega en el equipo los detalles y escala los posibles problemas que puedan surgir que vayan más allá de la capacidad de decisión del equipo.
Business Analyst. Único rol con intereses duales, tiene suficiente conocimiento del negocio como para entender las necesidades, y suficiente conocimiento técnico como para asegurar que la solución cumple tanto los requisitos funcionales como los no funcionales. Es un miembro del Solution Development Team, y a la vez a nivel de proyecto.
Team Leader. Ayuda a que el equipo sea lo más productivo posible, actuando como líder a su servicio. Rol parecido al Scrum Master, idealmente es elegido por sus compañeros del Solution Development Team, y facilita las diferentes reuniones del equipo.
Business Ambassador. Persona clave para representar a negocio en el equipo de desarrollo. Participa de manera muy activa en la creación y priorización de requisitos durante Feasability y Foundations, es el responsable del detalle y la priorización durante el desarrollo. Rol muy parecido al Product Owner, toma las decisiones de negocio respecto al equipo.
Solution Developer. Es capaz, junto con sus compañeros del equipo de desarrollo, de coger los requisitos y transformarlos en un incremento de la solución que cumpla las necesidades técnicas y de negocio. Rol muy parecido al de Team Member en Scrum, pero especificando skills más orientados a desarrollo.
Solution Tester. DSDM hace énfasis en definir y asegurar un nivel de calidad adecuado, y el Solution Tester es la persona responsable de definir y ejecutar los test según la estrategia acordad. Muy parecido al de Team Member en Scrum, pero especificando skills más orientados a testing.
Business Advisor. Rol de soporte que nos puede proporcionar conocimiento de negocio específico, que no encontramos en otros miembros del equipo de proyecto. Considerado un Subject Matter Expert de negocio, puede representar a usuarios, focus groups, o aspectos legales / compliance a tener en cuenta.
Technical Advisor. Rol de soporte parecido al Business Advisor, pero más orientado a aspectos técnicos a tener en cuenta en la solución. Por ejemplo, requisitos a cumplir una vez esté puesta en producción, conocimiento profundo de la tecnología utilizada, o soporte técnico.
Workshop Facilitator. Los workshops son una de las prácticas recomendadas en DSDM, de modo que disponer de una persona neutral, con los skills necesarios para facilitar este tipo de talleres, es esencial para su éxito.
DSDM Coach. En una transición ágil, la adopción de ciertas técnicas y procesos puede ser difícil, y más aún lo es el cambio de mindset. La aportación de un coach con experiencia práctica en agile, y con conocimiento del framework en el que nos vamos a apoyar, es un factor clave de éxito de esta transición.
¿Os parecen demasiados roles, un total de 13? Scrum tiene únicamente 3 roles… y hemos visto la correspondencia de éstos con los de DSDM. ¿Para qué necesitamos los restantes? Bien, hemos comentado varias veces que DSDM está cubriendo explícitamente un alcance mayor que Scrum, incluyendo aspectos a tener en cuenta antes de iniciar el desarrollo de producto, y más enfocado a proyecto. Por otra parte, una persona puede tener más de un rol en iniciativas pequeñas, pero cubriendo siempre todas las responsabilidades. Y no necesariamente están implicados de inicio a fin del proyecto. Por ejemplo, los roles de soporte tendrán una participación puntual cuando se les necesite. Hemos de considerar DSDM como un
framework
flexible, que nos puede proporcionar una ayuda muy valiosa en la adopción de metodologías ágiles. Con un apartado específico de cómo personalizar el framework (
Tayloring the DSDM Approach
), no solo nos detalla roles, procesos, productos, … sino también sugiere diferentes patrones y acciones a llevar a cabo para asegurar que lo hacemos con éxito. Si en vuestra organización estáis gestionando numerosos proyectos, ya sea de forma más tradicional o ágil, o tenéis una PMO que os ayuda a definir buenas prácticas y procesos comunes entre proyectos, y queréis mejorar vuestro time to market y entregar soluciones enfocadas a resolver necesidades de negocio, estoy convencido que DSDM os puede proporcionar muy buenos resultados, tal como lo ha hecho a miles de empresas en los últimos 25 años. Por último, no dudéis en informaros de nuestras convocatorias de cursos y certificaciones en 
AgilePM
 y 
AgileBA.