SAFe® 5.0, transformarse para competir
En la comunidad Agile se habla todo el tiempo sobre la tercera ola de Agile, sí, la tercera ola de Agile está aquí.
Este término proviene de un artículo de Charlie Rudd (marzo de 2016), en el artículo C. Rudd nos dice que: «El objetivo de la tercera ola es adoptar y expandir la Agilidad Empresarial en todo el mercado, transformando el funcionamiento, el éxito y el fracaso de las organizaciones actuales«.
Eso significa ir más allá de tener grupos de personas haciendo y siendo ágiles, o incluso más allá de escalar Agile para crear programas o soluciones. La tercera ola tiene que ver con compañías ágiles que son capaces de implantar y mantener culturas de aprendizaje organizacional continuo y que este cambio cultural esté impulsado por el liderazgo, los valores y los principios ágiles.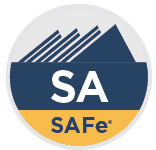 Creo que este es el principal espíritu de la nueva versión SAFe® 5.0 para Lean Enterprises, muchas empresas se han dado cuenta de que necesitan transformarse para competir, y han visto que la única forma de lograr esto es a través del Business Agility.
Si vamos a la página de SAFe® 5.0 veremos que según Scaled Agile, Business Agility permite capitalizar las oportunidades que surgen empoderando y ayudando a las compañías para tomar decisiones rápidas, asignar el presupuesto de forma correcta y alinear a las personas adecuadas para hacer el trabajo.
SAFe también reconoce que el Marco por sí solo no es suficiente para lograr una transformación exitosa; eso depende de todas las personas que forman parte de la compañía —equipos y líderes—. Todos serán los principales artífices de este cambio.
¿Cuáles son los cambios en SAFe® 5.0?
Nueva Big Picture
Este es el aspecto de la nueva Big Picture:
Nueva pestaña Resumen SAFe® 5.0
Una nueva pestaña de resumen en la página de inicio que proporciona una vista simplificada de las siete competencias centrales de SAFe que permiten Business Agility.
Al hacer "click" en esa pestaña y tendréis información inicial sobre SAFe

Introducción de OKR para medir la agilidad empresarial
El nuevo artículo Measure and Grow describe cómo medir el estado de la agilidad empresarial y cómo acelerar el crecimiento para mejorar los resultados económicos generales.
Essential SAFe® 5.0
Desaparece la «separación» entre Programa y Equipos en el Big Picture, ambos se combinan en el nivel Esencial.
Todos los roles están agrupados y ya no hay un equipo de desarrollo específico. Este cambio hace énfasis en que los equipos ágiles incluyen equipos de negocio y técnicos.
Cómo lograr un verdadero Business Agility
SAFe® 5.0 pasa a ser «el sistema operativo de las empresas para la agilidad empresarial»
Reestructuración de cinco competencias
DevOps y Release on Demand ahora forman parte de Agile Product delivery. Business Solutions and Leans Systems son ahora Enterprise Solution Delivery.
Dos nuevas competencias básicas:
Cultura de aprendizaje continuo
La competencia Cultura de aprendizaje continuo describe un conjunto de valores y prácticas que animan a las personas, y a la empresa, para aumentar el conocimiento, la competencia, el rendimiento y la innovación de manera constante y continua.
Agilidad organizacional
La competencia de Agilidad Organizacional describe cómo las personas Lean-Thinking y los equipos ágiles optimizan sus procesos de negocio, desarrollan estrategias con nuevos compromisos claros y decisivos, y adaptan rápidamente la organización según sea necesario para capitalizar nuevas oportunidades.
SAFe® 5.0 House of Lean
Se ha actualizado el gráfico, pero los pilares siguen siendo los mismos
Customer Centricity and Design Thinking
Hay dos nuevos artículos Customer Centricity, (el artículo Customer se ha renombrado como Customer Centricity) y Design Thinking, en ambos artículos se ve que el Framework se ha ampliado para centrarse en la mentalidad y el impacto de la orientación al cliente, y también incluye información interesante sobre herramientas y prácticas de implementación Design Thinking como apoyo a Customer Centricity.
Principio #10 – Organize Around Value
Este nuevo principio guía a las empresas a alinear sus esfuerzos de desarrollo en torno al flujo de valor completo de principio a fin.
Nuevo Roadmap de Implementación de SAFe® 5.0
Que incluye, entre otras cosas, dos cursos nuevos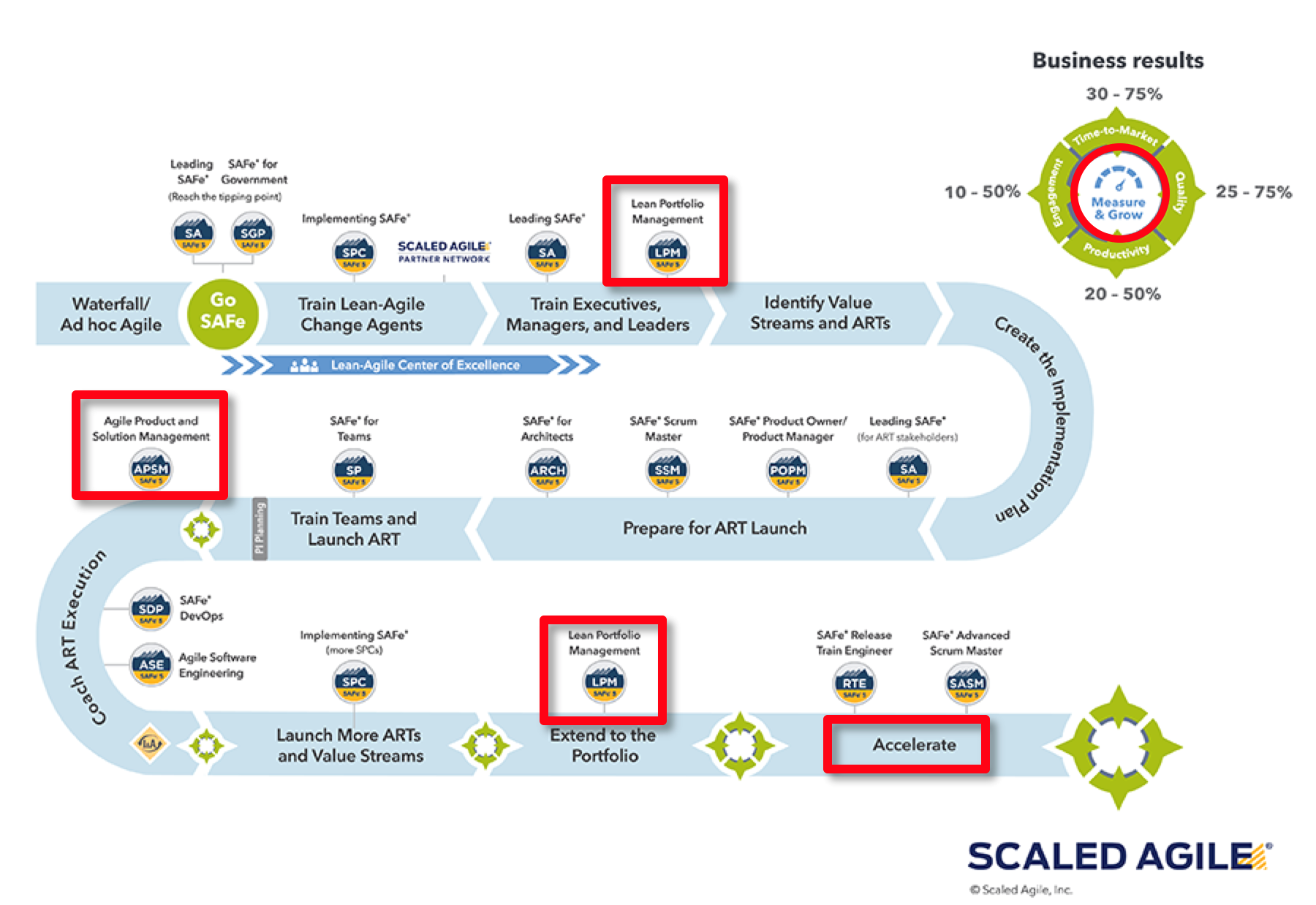 En Netmind somos Partner de Scaled Agile®, tenemos mucha experiencia en implantaciones SAFe® en todo tipo de empresas y en estaremos encantados de ayudar a tu organización a alcanzar la agilidad empresarial a través de la implementación de SAFe 5.0. Contacta con nosotros y charlemos de tu caso.
Nuestros cursos oficiales a partir de ahora estarán orientados a la versión 5.0. Pudiendo impartir la 4.6 si hubiera alguna necesidad especial por parte de algún cliente.
Si quieres tener más información de la nueva versión visita la web de SAFe®, en caso de dudas, contacta con nosotros, estaremos encantados de charlar contigo y ver cómo podemos ayudarte en el camino hacia Business Agilty.
Nota para los SPCs
Si estás certificado en una versión anterior de SAFe®, puedes hacer el "upgrade" a Scaled Agile Framework® (SAFe®) versión 5.0 sin ningún tipo de coste, entra en tu cuenta de SPC y selecciona el Plan de aprendizaje de actualización SAFe 5.0®.
Eso sí, tu certificación ha de estar activa para poder actualizar a 5.0.
Después de completar el plan de aprendizaje (Videos más actividades), has de realizar el examen para actualizar todas sus certificaciones activas de SAFe® 4 a SAFe® 5.0.
Hay dos intentos (sin coste) para aprobar el examen de. Si se necesitan intentos adicionales, ya sabéis que Scaled Agile tiene una tarifa para nuevos intentos.
Importante, ¿qué sucede si no me actualizo a SAFe 5.0®?
Cualquier certificación activa seguirá siendo válida hasta la fecha de vencimiento de certificación, recuerda que las certificaciones caducan anualmente si no se renuevan.
Yo os recomiendo que aprovechéis la actualización gratuita que SAFe® nos ofrece y que nos dará acceso al último Framework y nuevas herramientas.
Hay que tener en cuenta que SAFe® siempre soporta anterior a la versión actual, por lo que el Framework 4.6 (y sus cursos) estarán disponibles hasta la próxima actualización.