Del 2 al 4 de noviembre se celebró la sexta edición de la conferencia Building Business Capability que, anualmente, organiza el International Institute of Business Analysis (IIBA). Se celebró en el Caesar's Palace en Las Vegas, y congregó cerca de 1500 personas, de 27 países, con más de 120 conferenciantes.
Esta conferencia se focaliza en la búsqueda de la excelencia empresarial a través del Análisis de Negocio, Arquitectura de Negocio, Procesos de Negocio, Reglas y decisiones de Negocio, y Estrategia y Transformación. Está dirigida principalmente al colectivo de analistas de negocio, aunque también arquitectos, directivos, gestores del cambio y técnicos.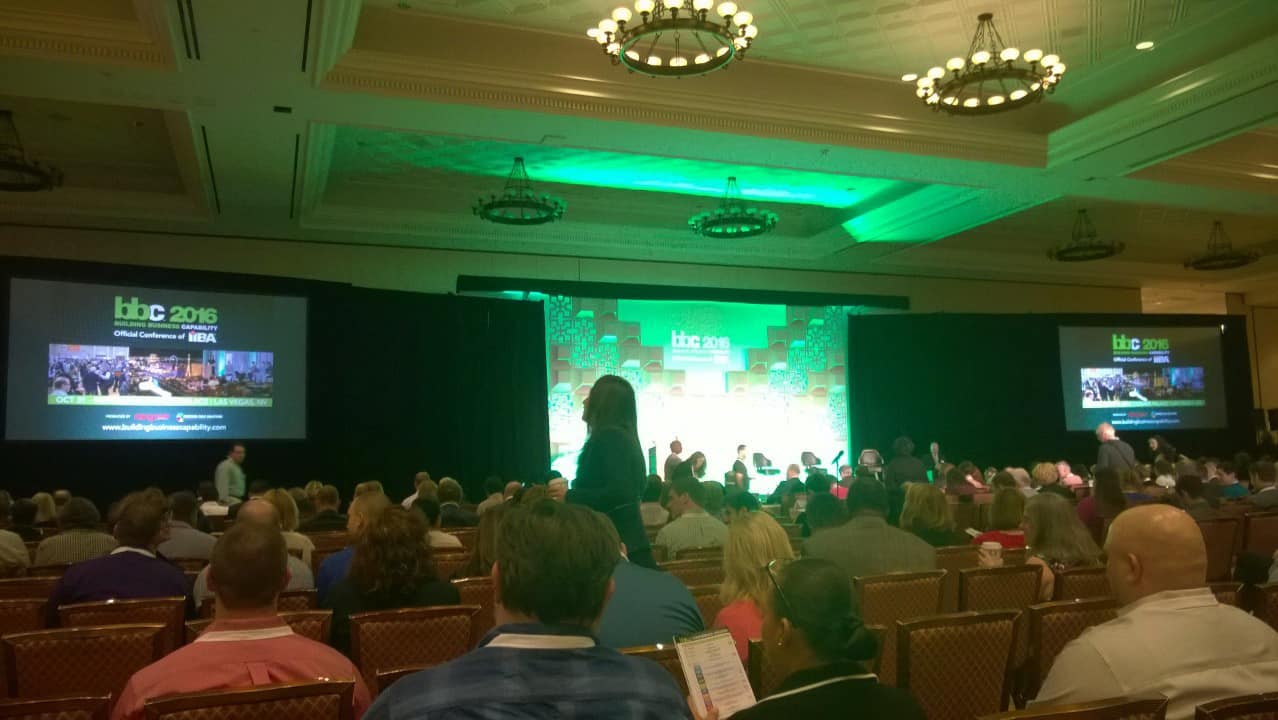 BBC 2016 Sesiones
Durante los tres días de conferencia hubo varias sesiones interesantes e inspiradoras, de las que intento resumir algunos de los que, para mí, fueron los puntos principales:
Espacios para pensar
La excelente keynote de opertura fue a cargo de Juliet Fundt, CEO of WhiteSpace at Work, y trató acerca de "los hábitos invisibles de la excelencia". En concreto, se centró en la importancia de disponer de espacios durante nuestro día a día para pensar, para no hacer "nada": "solo" pensar. Es curioso cómo, como profesionales, se nos exige ser creativos, estar a la última, aportar soluciones novedosas mientras, al mismo tiempo, estamos ocupadísimos en nuestras tareas del día a día. Una de mis batallas (a veces perdidas) en todas las formaciones, por ejemplo, es el uso del correo electrónico en las organizaciones. Fundt lo puso como ejemplo de los "ladrones" de productividad (no es el único) y habló acerca de cómo podemos afrontarlos, a través de unas sencillas preguntas que pueden guiar nuestras actuaciones: 
Ante el "ladrón" del impulso, de las ganas de afrontar retos, ¿Hay algo que pueda dejar ir?
Ante el "ladrón" de la búsqueda continua de excelencia, ¿Cuándo es "suficientemente bueno", suficientemente bueno?
Ante el "ladrón" del exceso de información, ¿Qué es lo que realmente necesito saber?
Ante el "ladrón" de la sobrecarga de actividad, ¿Qué se merece mi atención?
Contar historias
Una de las sesiones más inspiradoras fue a cargo de Kupe Kumersmith (Presidente de B2T Training) y Lori Silverman (Owner and Strategist de Partners for Progress) acerca del uso de historias (Story prompts) para obtener requisitos de cliente. A veces, como analistas, nos centramos en buscar las preguntas más adecuadas para saber lo que necesitamos. Muchas veces las respuestas que nos dan nuestros entrevistados contienen filtros y lo que obtenemos es la visión que tiene esa persona acerca de la situación que planteamos, o la visión que intenta que tengamos, a veces inexacta o incompleta. Silverman y Kupersmith proponen intentar ir a las emociones, "heart of the matter", planteando preguntas que ayuden al entrevistado a contar historias. A todos nos gustan las historias, escucharlas y explicarlas. Las historias se explican tal cual, sin filtros. Una posible manera de provocar esas historias es empezando por "Tell me about…": cuéntame acerca de, por ejemplo, el momento en el que decidiste integrar todos los servidores web en un único servidor.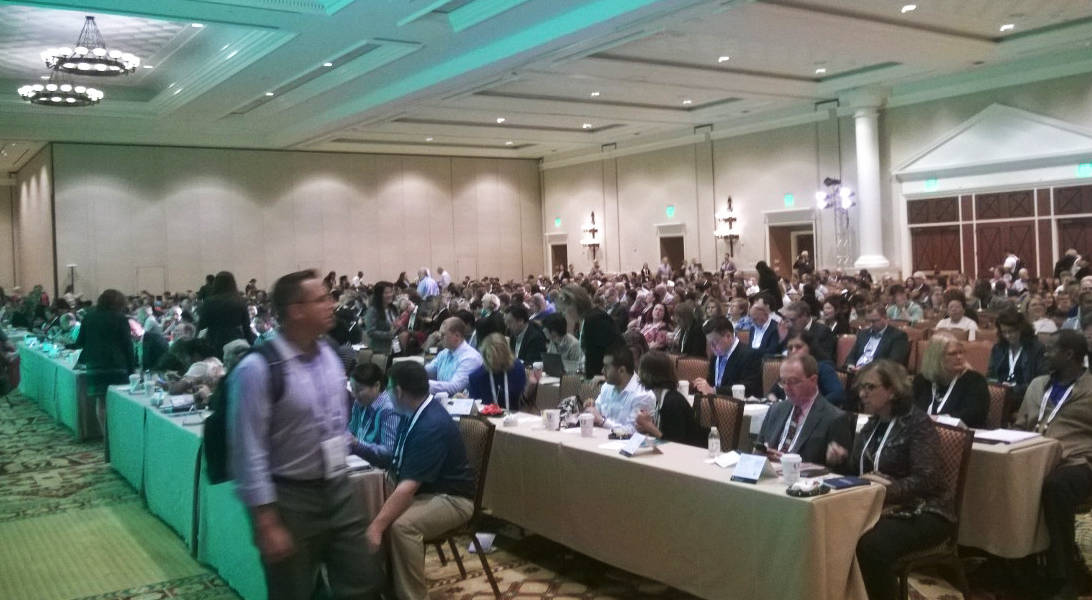 Todo el track de Agile
Uno de los temas principales de la conferencia fue acerca de Agile Business Analysis, cómo utilizar Agile aporta valor al análisis de negocio. Hubo muchos seminarios muy interesantes presentando experiencias concretas en Agile y Business Analysis, algunas incidiendo en el estado del arte de Agile hoy en día, otras en cómo aplicar agile en entorno organizacional (Agile Portfolio Management, Agile Enterprise: Inspect, adapt & transform), y también hubo espacio para hablar de las técnicas y artefactos más comunes que el analista debe utilizar en Agile. La conclusión de todo lo visto y vivido, es doble y, aunque conocida, es especialmente potente por darse en este foro: por un lado, Agile ha venido para quedarse, por otro, la función de Business Analysis es tan, o más, importante en Agile que en warerfall.
Conversaciones cruciales
El último día empezó con una keynote espectacular a cargo de Bob Prentiss (Owner/Principle Consultant, Bob the BA). La sesión trató acerca de la necesidad de mantener aquellas conversaciones que no queremos mantener, tanto en ámbito personal como profesional. Como analistas, muchas veces evitamos ese tipo de conversaciones (con clientes, colegas, equipo), pero seguramente esas conversaciones son las que mayor impacto tienen y las que nos permiten obtener mejores resultados. En una divertida sesión, explicó cuando tenerlas y cuando no tenerlas, y algunos trucos e ideas para que se desarrollen mejor.
Networking.
Finalmente, esta conferencia ofrece la oportunidad única de conocer personas de todo el mundo con intereses comunes, y poder compartir con ellos ideas, experiencias y conocimientos. Más allá de las presentaciones, esto es lo más enriquecedor.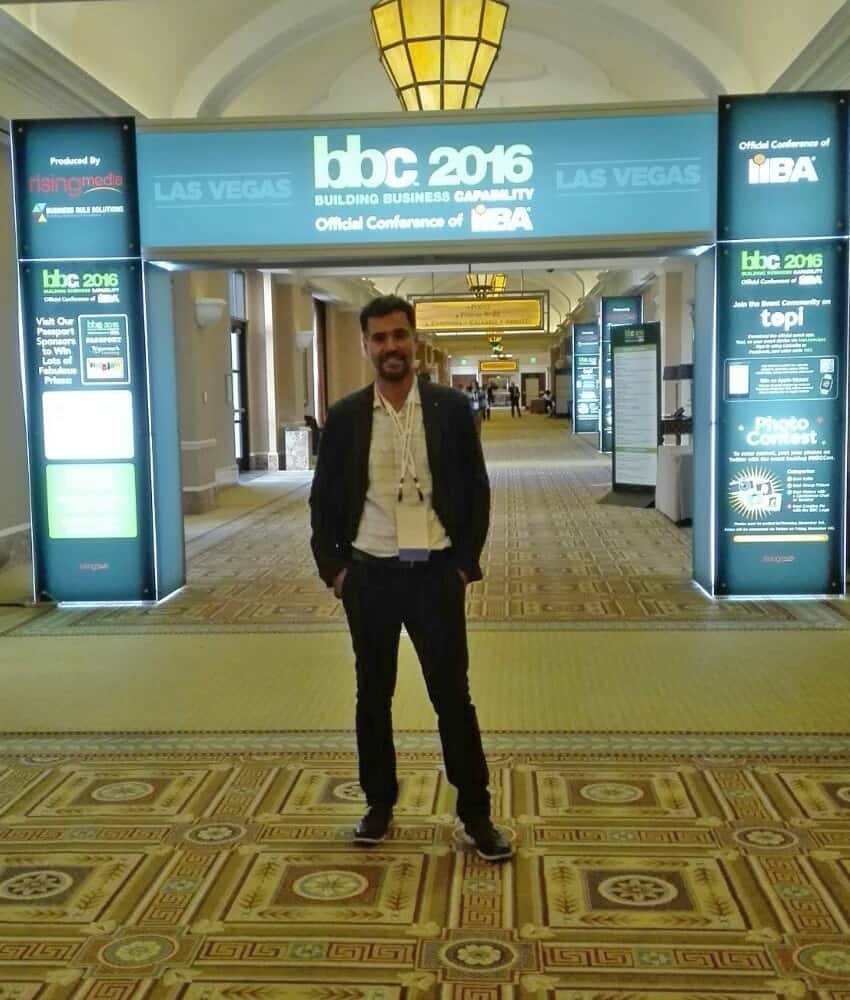 Además, en la edición de este año, he tenido el orgullo de poder participar como speaker, explicando nuestra experiencia ayudando a Repsol a definir su propio método de Business Analysis.
Esta sesión nos permitió explicar nuestra visión de cómo afrontar una transformación de este tipo en las organizaciones y como incrementar la importancia de Análisis de negocio.
En este sentido, me gustó comprobar como nuestros planteamientos encajaban con otras presentaciones de casos reales (Thomson Reuters, US Cellular, IKEA) que han tenido que afrontar la misma necesidad. Me traigo conmigo también algunas ideas acerca de la importancia de las comunidades y centros de excelencia de BA, y cómo dinamizarlas.
Aunque la nuestra no fue la sesión más concurrida, fue seguida con mucho interés y compartimos con los asistentes una muy productiva conversación al final de la sesión acerca de cuáles son los pasos más adecuados para cambiar la manera de realizar Business Analysis en una organización.
¡En definitiva, ha sido una experiencia increíble, y vuelvo con muchas ganas de repetir el año que viene en Orlando!