El trabajo con equipos distribuidos en diferentes ubicaciones no es en absoluto una novedad, es una tendencia creciente en los últimos años, acrecentada en muchas organizaciones por el contexto actual. Hoy tenemos la conjunción perfecta para dar el impulso definitivo al #teletrabajo a través de herramientas avanzadas y evolucionadas durante años y una necesidad generalizada (y para muchos repentina) por usarlas. Pero ¿es suficiente? ¿son herramientas lo que necesitamos para poder trabajar con equipos remotos y distribuidos? ¿cómo conecta esta realidad con la filosofía #agile?
Desde Netmind hemos diseñado cuatro nuevos cursos exclusivos para ayudarte a abordar la formación, el trabajo y la facilitación de equipos en remoto. Todas las formaciones han sido creadas a partir de ideas, materiales y actividades que teníamos en el backlog y perfeccionadas mediante versiones piloto de co-creación con profesionales de diversos sectores. Los cursos se imparten en modalidad OpenClass®, una solución formativa en remoto que permite a los alumnos asistir a nuestros cursos desde cualquier sitio, con una experiencia formativa prácticamente igual a la de la formación en aula.
Bajo el nombre de Agile Remote Trainings se engloban cuatro cursos:
Training from Behind the Screen (JJM 280)
Con el curso Training from Behind the Screen (TBS), aprenderás a diseñar y facilitar cursos orientados a ser impartidos en formato remoto en directo. A lo largo de estas 12 horas de formación, se te  proporcionará las técnicas y actividades imprescindibles para conectar con los alumnos de forma interactiva. Además, podrás practicar con un completo ecosistema de herramientas online para complementar la formación.
TBS es un curso orientado no solo a formadores, sino también a ponentes en webinars interactivos, responsables de RRHH, y en general cualquier persona que quiera conocer las posibilidades de la formación en remoto para captar la atención de su audiencia y hacer llegar su mensaje de forma más entendible y con el mayor impacto posible en un formato Live online learning.
PRÓXIMAS FECHAS
Artículo relacionado: ¿Cómo apasionamos a los alumnos en remoto?
Agile Remote Facilitation (JJM 286)
El rol del facilitador, bajo distintos nombres, es fundamental en entornos ágiles. Pero también la agilidad destaca la comunicación cara a cara como la más efectiva, y pone a los individuos y sus relaciones como uno de sus principales valores. ¿Cómo encaja esto cuando tenemos equipos distribuidos, incluso atomizados? ¿Qué puede hacer un facilitador para mantener un flujo positivo y efectivo de trabajo en estas circunstancias?
En este curso intentamos responder a todas estas preguntas. Los alumnos aprenderán los conceptos básicos y principios asociados a una facilitación remota exitosa y practicarán diferentes técnicas y herramientas, además de conocer recomendaciones prácticas para dinamizar y facilitar la participación de los asistentes.
PRÓXIMAS FECHAS
Trabajar en Equipos Virtuales (JJM 287)
El objetivo del curso es aportar a los alumnos los conocimientos y habilidades necesarias para comenzar a trabajar o dar los primeros pasos con equipos virtuales con dos configuraciones:
Todo el equipo remoto
Algunos de los miembros en remoto y el resto en la misma ubicación
Al finalizar este curso los alumnos podrán conocer las mejores prácticas para fomentar la colaboración de equipos virtuales, identificar las ventajas e inconvenientes del trabajo en equipos virtuales, utilizar técnicas y herramientas que permitan afrontar los nuevos retos y experimentar con algunas de las buenas prácticas y marcos de trabajo recomendados para la adaptación del equipo.
Así quedó nuestro mural tras el primer curso piloto de Trabajar en equipos Virtuales.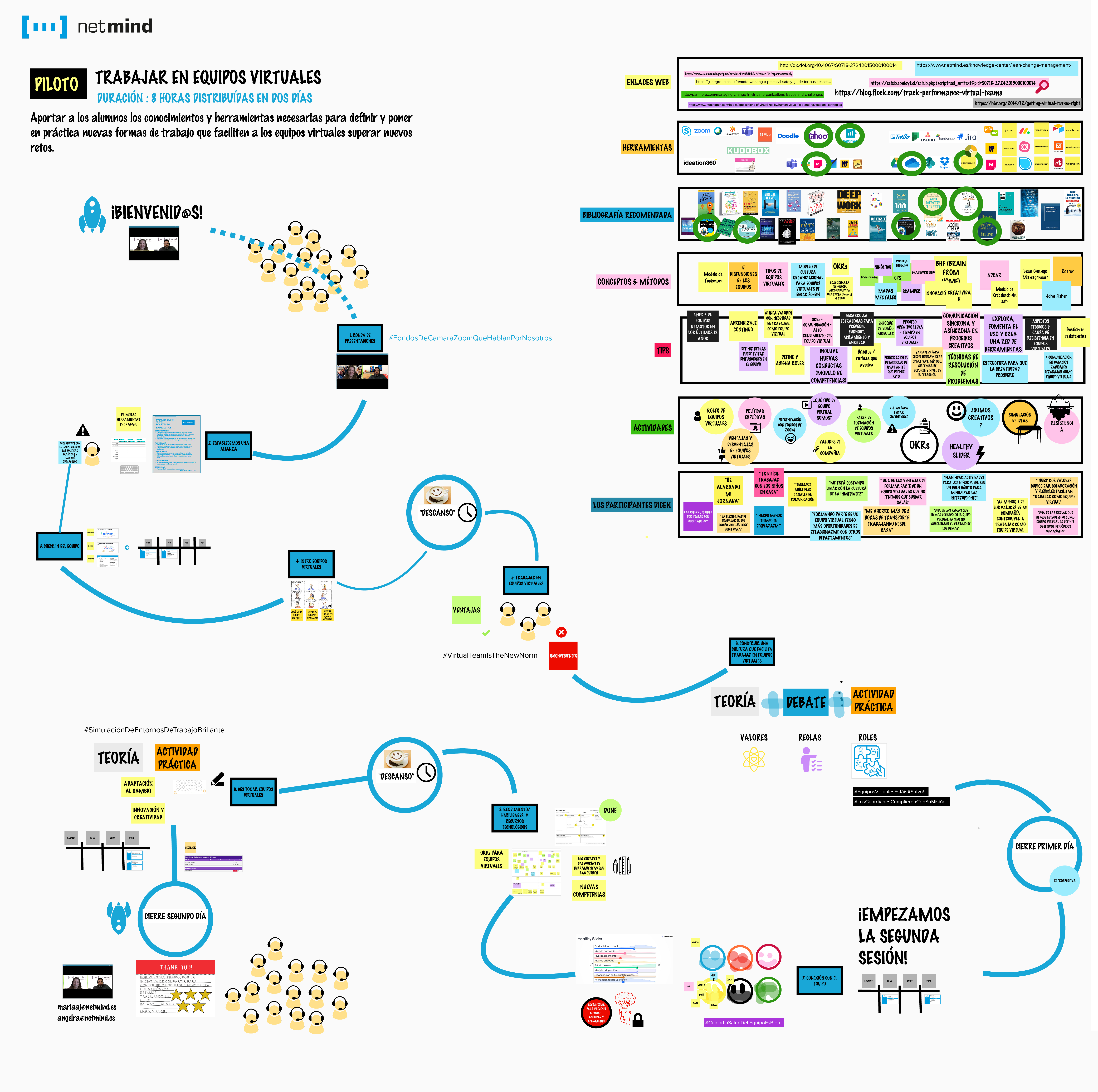 PRÓXIMAS FECHAS
Liderar Equipos Virtuales (JJM 288)
Las herramientas y capacidades nos permiten hoy en día poder trabajar de forma deslocalizada y global. Esto entraña muchos beneficios pero también nuevos retos a la hora de poder liderar equipos. Partiendo de la premisa que el rol del líder no cambia al volverse virtual, ciertos retos que ya existían en entornos físicos se ven ampliados a la hora de liderar equipos virtuales. A lo largo de este curso, podrás identificar y poner solución a esos retos para conseguir un equipo virtual cohesionado, productivo y con confianza entre los miembros del mismo.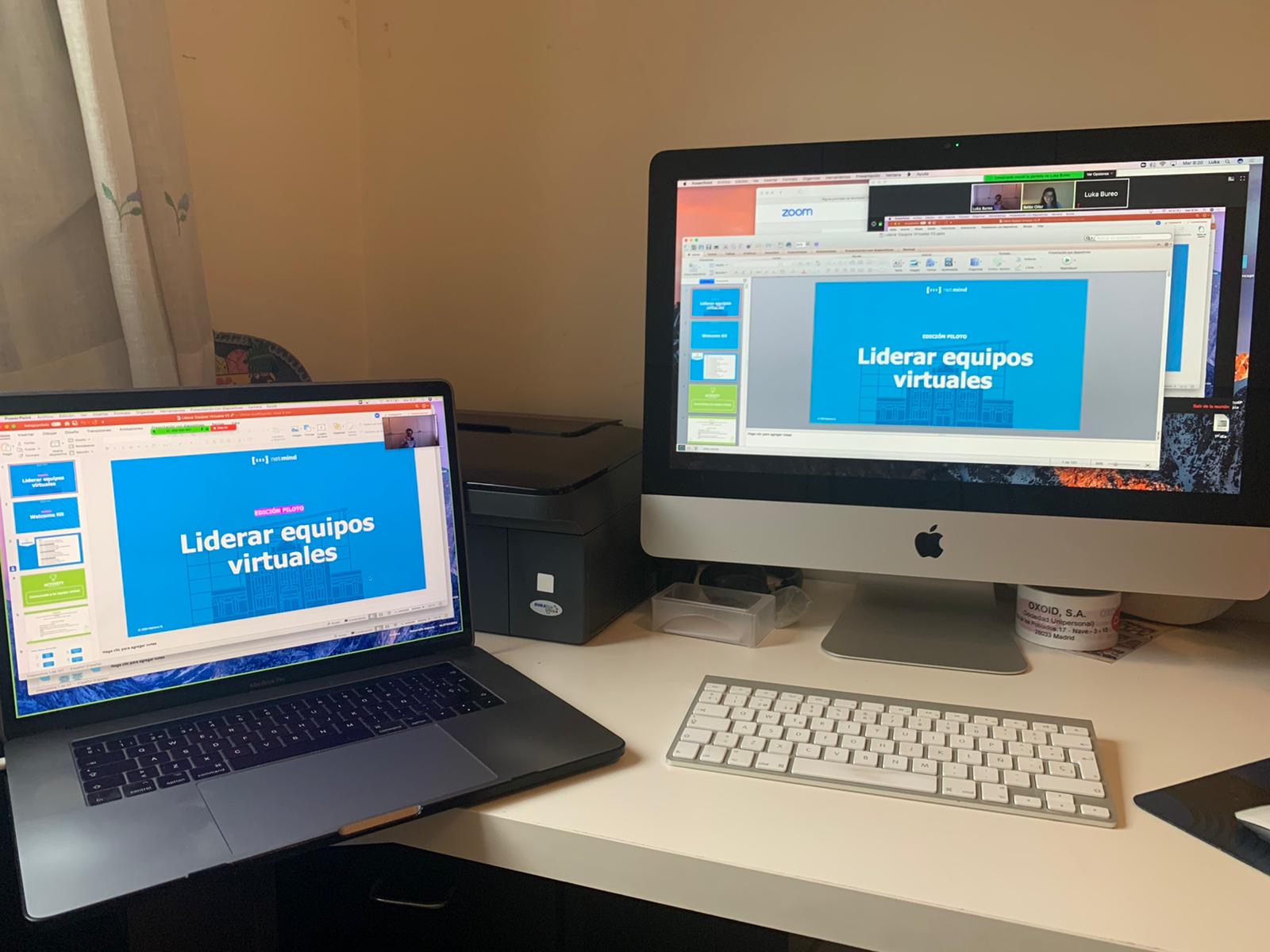 PRÓXIMAS FECHAS