Nuestro Framework de Gestión del Cambio para organizaciones #AlwaysLearning
Es imposible adaptarse al cambio si no se tienen personas preparadas. Para gestionar y adaptarse al cambio continuo, el enfoque debe basarse en más que un proceso; debe ir acompañado de un cambio de cultura, una cultura que acepte el cambio y el aprendizaje continuo.
NextB® Change es nuestro marco de trabajo (framework) para ayudar a las organizaciones a crear una solución personalizada en la adopción de cambios. Al aprovechar el poder del equipo interno para liderar el programa de transformación, NextB® Change acelerará los resultados, reducirá la resistencia al cambio y creará una cultura de cambio continuo. Se basa en el mindset de cultura Agile y se estructura en torno a un proceso de trabajo colaborativo que asegura que la solución se adapta a la realidad específica de la organización. Además, nuestro marco de trabajo permite a los equipos desarrollar de forma iterativa e incremental soluciones para una adaptación al cambio sostenible y escalable.
Los beneficios de NextB® Change Framework:
El liderazgo interno está en el centro y está impulsando la iniciativa de cambio
El compromiso del equipo y la conexión con la iniciativa es inmediato, ya que se les incluyen en la definición del plan de cambio y sus objetivos de mejora
Las soluciones se adaptan completamente a la realidad de la organización
El conocimiento se transfiere rápidamente al equipo interno, lo que agiliza su adopción del cambio
La sostenibilidad y la escalabilidad de la iniciativa de cambio están integradas en el framework
Se reduce la resistencia interna al cambio
Fundamentos de NextB® Change
NextB® Change es aplicable y adaptable a cualquier contexto de cambio. Debido a que se basa en principios y prácticas simples, se puede utilizar para estructurar una iniciativa de cambio específica o en la ejecución de una transformación completa.
Liderazgo interno
Las iniciativas están dirigidas por las personas de la organización que se ven afectadas por el cambio.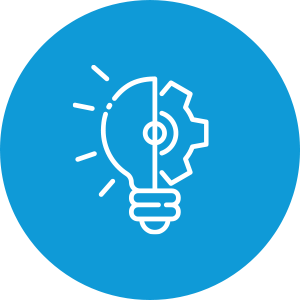 Aprender de la experiencia
Aprender de nuestros propios hallazgos es imprescindible en el entorno de cambio constante (VUCA) en el que vivimos.
Tranferir el conocimiento
El aprendizaje es más poderoso cuando se combina con una mentalidad abierta en la que se comparten los conocimientos.
Evitar
sobreplanificar
Mantener el impulso de un cambio entregando resultados lo antes posible.
Experimentar + Colaborar
Promover la experimentación y tolerar el error para validar rápidamente hipótesis sin impacto comercial.
Ciclos de
Feedback
Crear conversaciones y comentarios de forma regular para impulsar un ciclo de mejora continua.
Crear y comunicar la
narrativa del cambio
NextB® Change prepara y sienta las bases para que el cambio tome forma y sea aceptado. Como parte de este proceso, identificamos acciones de implementación que giran en torno a la Narrativa del Cambio. Esta narrativa apoya las iniciativas de cambio al proporcionar un mensaje claro y concreto para ayudar a todos los que atraviesan el cambio a comprender su propósito y verlo como algo real, deseable y alcanzable.
Definir visión y alcance
Collaborative work to define vision, scope, and exclusions. Agree on what is motivating the change initiative and use it to help make decisions throughout the change process.
Describir el "éxito"
Definir objetivos y beneficios, comportamientos esperados e indicadores, métricas y/o OKR.
Análisis de impacto
Determinar qué tan preparada está la organización para el cambio definiendo la situación actual, realizando Force Field Analysis y analizando la preparación de los stakeholders.
Roadmap y Backlog
Proponer un Roadmap preliminar que incluya el MVP y comienzar a detallar el Backlog mediante la identificación de hitos clave, entregables y requisitos.
Descarga nuestra infografía para obtener más información sobre cada uno de los elementos así como la ilustración completa de nuestro framework.
NextB® Learning es nuestro marca de trabajo para ayudar a desarrollar
las capacidades necesarias para adoptar el cambio y crear una cultura de
aprendizaje basada en empoderar a las personas.