Lean Change Management Certifications
Lean Change Management Certifications
Introduction to Lean Change Management Certifications
The Lean Change Management Academy was launched in 2018 on the basis of Jason Little's book, Lean Change Management: Innovative Practices for Managing Organizational Change. The recipe for Lean Change Management was concocted using the best ideas of Agile, Lean Startup, Change Management, and Design Thinking.  It is an evolution of innovative practices that can be used to manage organizational change.
Lean Change Management is a change model that uses feedback, co-construction, and visualization to manage change.
Feedback (or feedback-driven). Continually seek to collect information so you can learn and adapt to new contexts. Change isn't linear; it will continue to evolve and iterate based on what you learn.
Co-construction. Define change and address it in conjunction with the people who are going to be affected by it. Take into account their perspectives, opinions, and emotions in the face of the change.
Visualization. Make your work visible (what we call "working out loud"). The goal is for people to know what they're working on, how they're moving forward, and what they can contribute so that they are involved in the co-construction of the change.
(Lean Change Management is a Happy Melly brand, a brand who is dedicated to "happiness at work" and the same company who gave us Management 3.0.)
Netmind is a Lean Change Management Academy Licensed Facilitator. We are accredited to deliver:
Netmind Lean Change Management Instructors
Alfred Maeso
Lead Expert in Business Analysis, Change Management, and Project Portfolio Management
Lean Change Management Certifications
Lean Change Agent
A Lean Change Agent utilizes techniques for change management that are designed to specifically for responding to changes in environments of high uncertainty and complexity (so basically, almost every environment these days).
Anyone who is responsible for or involved in the organizational change processes and who has professional needs to implement changes in an agile and flexible manner. This can range from Change Agents to organization leaders at all levels to people in the Systems, Human Resources, or Transformation areas (such as agile transformation offices or project and process offices).
There is no prerequisite to attend the course. However, we recommend that students are currently participating or have participated in organizational change management.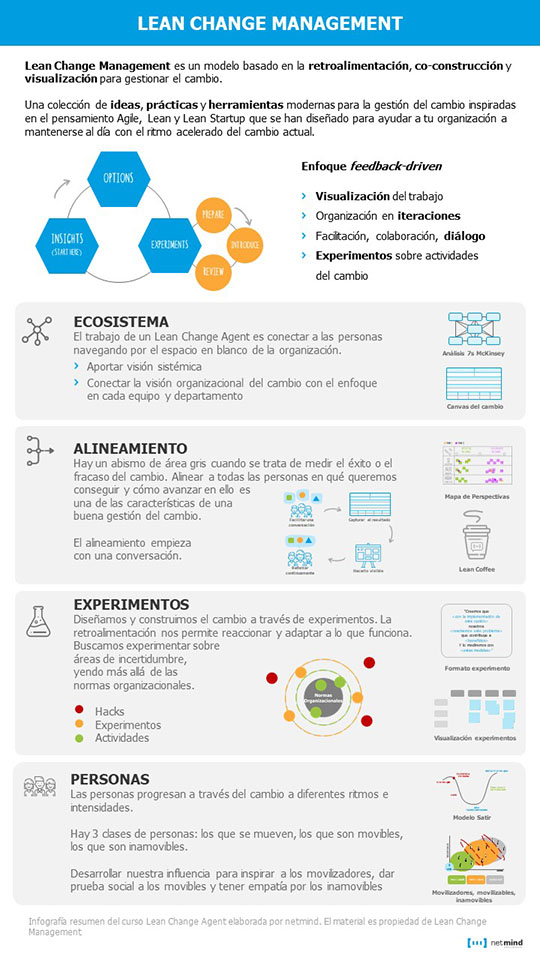 Lean Change Management Infographic
Netmind Insights on Lean Change Management