Los puntos del juego creativo
¿Qué es este juego para pensamiento creativo?
Un juego para fomentar el pensamiento creativo ("o
ut of the box")
Tiempo que se necesita
No se necesitan más de 5 minutos.
Número de participantes para el juego
Ilimitado.
Materiales necesarios
Pasos a seguir
Indica a los participantes que dibujen 9 puntos como se muestra a continuación

Haga que los participantes conecten los 9 puntos bajo las siguientes limitaciones:

No pueden usar más de 4 (o menos) líneas rectas para hacer la conexión.
Los participantes no pueden levantar su lápiz.
Los participantes no pueden volver a pasar por encima de una línea.
Revela la solución: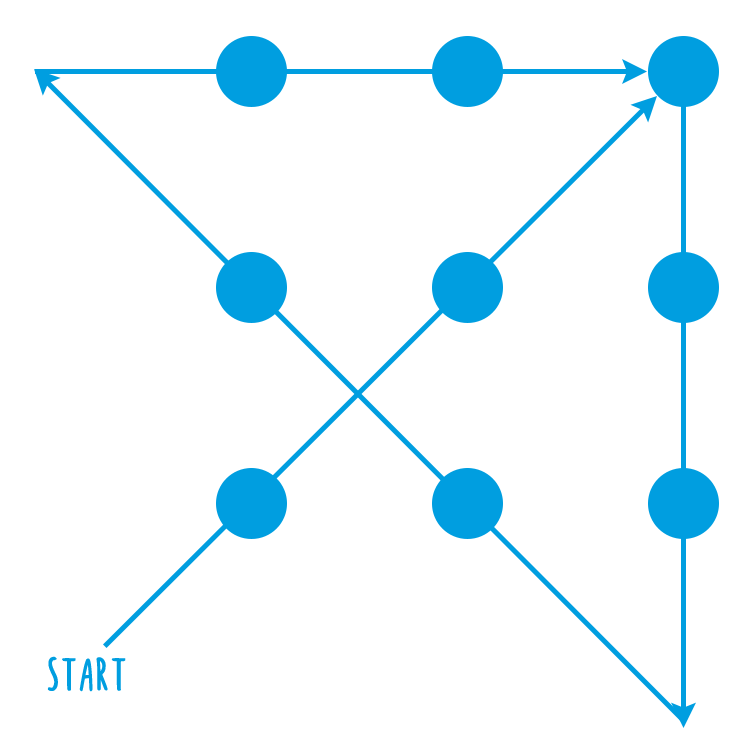 Solución del juego creativo
La solución más obvia no es siempre tan obvia. La mayoría de las personas seguro que cuando comiencen esta actividad pensarán que deben permanecer dentro de los parámetros del cuadro que forman los puntos. Sin embargo, en ningún momento se les ha dicho que eso sea un limitación. Para poder adoptar un pensamiento creativo se debe pensar
out of the box, 
huir de lo convencional y buscar una nueva perspectiva. Salir, literalmente, de los "límites establecidos" para "unir las ideas" y encontrar la mejor solución.
Descubre nuestros cursos sobre Innovación Digital