Como ya os explicamos en una anterior noticia, el pasado 19 de abril de 2018 tuve el placer de asistir (Santi Alcaide) al evento gigaTIC 2018 como speaker.
gigaTIC 2018, es un evento organizado por itSMF España y ISACA Barcelona, en materia de Mejores Prácticas en Gobierno y Gestión de Servicios TIC.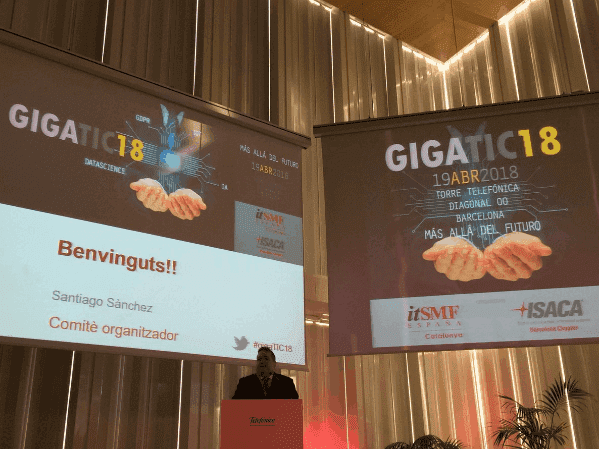 El speech que realicé tuvo como título "Las 5 claves de la gamificación en el aprendizaje de COBIT".
Durante esta sesión pudimos diferenciar qué se considera gamificación y qué no.
Además hablamos y definimos los 5 beneficios de la gamificación:
Seguridad: Permite fallar y aprender.
Transferencia de conocimiento: Incrementa el ratio de retención de conocimiento.
Enganche: Competencia saludable.
Personalización: Transforma visiones en aprendizaje.
Creación de equipos: Contra un reto común.
Además pude presentar e introducir de qué iría la partida de Epic Decisions: Control with a BIT of Structure, el juego de COBIT.